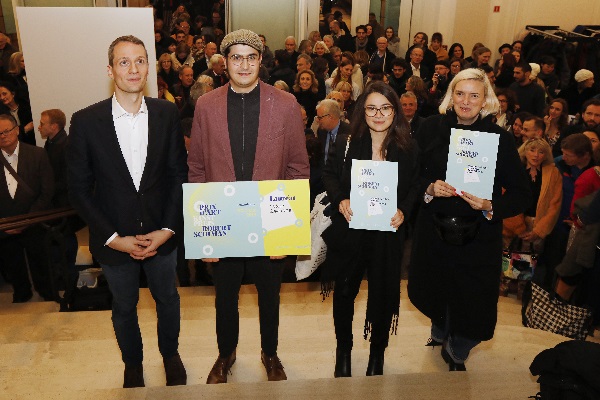 Winners of Robert Schuman Art Prize 2019; Credit: Olivier Minaire
The Robert Schuman Art Prize 2019 has been awarded to Metz-based artist Thibaud Schneider.
A jury composed of art professionals met on Wednesday 20 November 2019 to select the winner of this year's Robert Schuman Art Prize. The prize and special mentions were then given to artists on behalf of the City of Luxembourg during the opening of the Robert Schuman Art Prize exhibition, which was held at Cercle Cité on Thursday evening.
Thibaud Schneider from Metz received the Robert Schuman Art Prize 2019, whilst special mentions were awarded to Anaïs Marion, also based in Metz, and Luxembourg-based artist Aline Bouvy.
The jury was composed of Danièle Wagener, Honorary Director of the 2 Musées de la VIlle de Luxembourg (Lëtzebuerg City Museum and Villa Vauban), and Suzanne Cotter, Director of Mudam, representing Luxembourg, Nathalie Filser, Director of the École Supérieure d'Art de Lorraine, and William Schuman, President of TCRM-BLIDA, Metz, representing Metz, Gabriele Langendorf, Director of the Hochschule der Bildenden Künste Saar, and Nicole Nix-Hauck, Director of the Städtischen Galerie Neunkirchen, representing Saarbrücken, and finally Dr. Gabriele Rasch, art historian and curator in Mainz, and Dr. Dorothée HENSCHEL, Research Associate at the Stadtmuseum Simeonstift Trier, representing Trier.