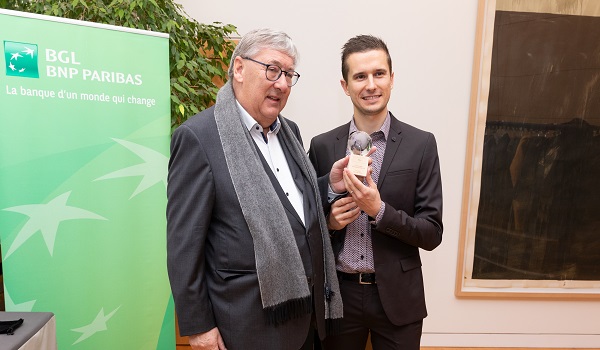 Kik Schneider, President of Fondation Alphonse Weicker, with Antoine Hron, partner at klin; Credit: Fondation Alphonse Weicker
Fondation Alphonse Weicker and BGL BNP Paribas, in collaboration with the National Institute for Sustainable Development and Corporate Social Responsibility (INDR) and the Union of Luxembourg Enterprises (UEL), presented the Sustainable Economic Progress Award for the first time yesterday.
The Sustainable Economic Progress Award ("Prix du progrès économique durable") recognises a company that has demonstrated its exemplary contribution to sustainable development through its corporate social responsibility (CSR) strategy, taking into account its economic, social and environmental impacts. The evaluation criteria concern the materiality of the adopted CSR themes, the involvement or the consultation of stakeholders, the creation of shared value, innovation and sharing.
Fondation Alphonse Weicker offered a first prize, amounting to €10,000, aimed at enhancing the CSR strategy as a new requirement for companies, whilst BGL BNP Paribas offered a second prize of €2,500. The eligibility for the prize is reserved for CSR-labelled companies (label by the INDR). Indeed, these companies have formalised their understanding of CSR as an opportunity to improve their governance, strengthen their social engagement and limit their environmental impacts.
The jury judged nine applications "excellent" before awarding the company klin the Fondation Alphonse Weicker Sustainable Economic Progress Award (€10,000). klin offers the first ecological and on-demand laundry service in Luxembourg. The company offers a new way to consume pressing through new technologies in order to capitalize on three essential axes: digital, customer service and respect for the environment.
The BGL BNP Paribas Sustainable Economic Progress Award (€2,500) went to CIPA Résidence Op der Waassertrap, a retirement home that is strongly involved in a quality culture based on continuous improvement. In order to respect the well-being of its residents throughout their lives and to offer them the best quality of life and end of life, CIPA engages in Humanitude®, as well as in palliative care.
The jury was composed of president of the jury, Mathilde Jahan from BGL BNP Paribas, Gérard Hoffmann, CEO of Telindus, Yves Nosbusch, Chief Economist at BGL BNP Paribas, Emmanuelle Humann, CSR Manager at BGL BNP Paribas, Nicolas Buck, President of UEL and INDR, Philippe Maroldt, Economic Counselor, Economic Affairs at the Chamber of Trades and Sarah Mellouet, an economist at Fondation IDEA and the Chamber of Commerce.
The CSR-labelled applicants were as follows: BOLLIG VOYAGES S.A.; Cargolux Airlines International S.A.; Centre Hospitalier de Luxembourg; CESAP – centre d'activité pluridisciplinaire : activités physiques, sophrologie; CIPA Résidence Op der Waassertrap; Goblet Lavandier & Associés Ingénieurs-Conseils S.A.; klin; MAÂ-OUI!; WAKO S.A.