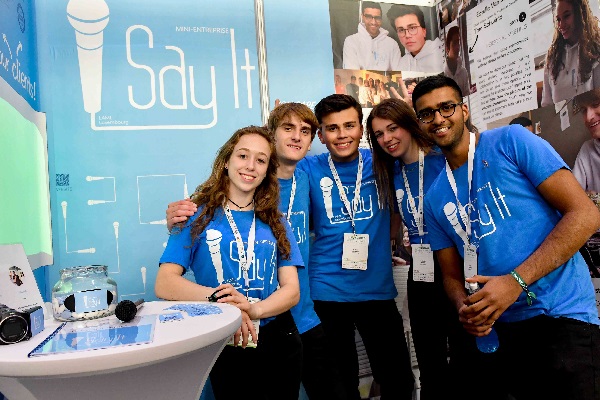 "Say It" team; Credit: JEL
Luxembourg's best mini-company of the year "Say It" took part in the 30th edition of the "Junior Achievement Company of the Year Competition", which was held in Lille on 4 and 5 July 2019.
During these two days, the team of students from Lycée Aline Mayrisch Luxembourg competed in different events organised by Junior Achievement Europe and the French federation "Entreprendre pour Apprendre" (EPA France). More than 200 young people from 40 countries were selected for this European final, having qualified in their respective countries.
This edition also coincided with the 100th anniversary of Junior Achievement Worldwide and the 2nd Entrepreneurship Education Summit, under the patronage of French President Emmanuel Macron. The Summit brought together many actors in entrepreneurial education who participated in plenary sessions with international speakers, debates and interactive discussions on current topics in entrepreneurial education during the competition.
Representing Luxembourg on this occasion, students Estelle Van de Winckel, Chenyan Yang, Sagar Rangram, Noé Weber, Mathis Trierweiler, Deborah Kieffer and Tom Schwirtz had the opportunity to participate in various seminars and exhibitions throughout the city of Lille. At the competition level, they presented their project "Say It" on stage in front of a jury composed of ten members representing various reputed international companies. The students also exhibited their mini-company during a fair organised at the Grand Palais de Lille.
"Say It" allows companies to get to know their customers better and improve their product or service based on customer opinion, as captured through filmed qualitative questionnaires. The students were mentored by Mrs. Sandy Neu, a teacher at Lycée Aline Mayrisch Luxembourg, and Mr. Paul Trierweiler, a professional coach. The mini-company is associated with the Jonk Entrepreneuren Luxembourg (JEL) asbl's "mini-companies" programme, launched in 2001.
In the end, the Turkish mini-company "Entella" was named the winner of the 30th Junior Achievement Company of the Year Competition for their product "Mareen", a cylindrical filter that helps in the collection of marine litter. Second and third places went to "Brand" (Estonia) and "Farm Animal Trade" (Italy).