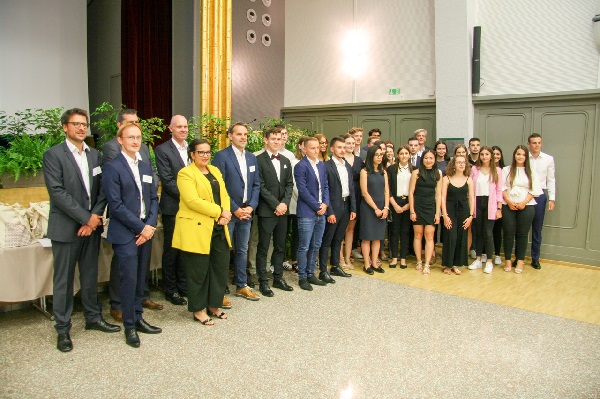 CNPSES Award Winners 2019; Credit: CNPSES
Under the patronage of Luxembourg's Ministry of National Education, Children and Youth and organised by the National Conference of Professors in Economics and Social Sciences (CNPSES) in close collaboration with the Chamber of Commerce and the Chamber of Employees of the Grand Duchy of Luxembourg, an awards ceremony recognised the achievements of 40 Economics and Social Sciences students on Wednesday 10 July 2019.
The 24th CNPSES awards ceremony rewarded the 40 best students in economic and social sciences from secondary education, vocational training, the International Bac and the BTS, from across the Grand Duchy.
The CNPSES presented interesting prizes to each laureate, thanks to the generous financial support of Credit Suisse (Luxembourg) SA. In addition, Credit Suisse (Luxembourg) SA and the Central Bank of Luxembourg offered a limited number of internships to the winners. Finally, Investas drew lots for an iPad from among the winners present.
Prior to the awards, Marc Muller, President of CNPSES, delivered an opening welcome, with Nora Back, President of the Chamber of Employees, and Roland Deinzer, Head of Corporate Development at the Federal Employment Agency and 2004 prize winner of the Fürther-Ludwig-Erhard-Preis, also addressing those in attendance.