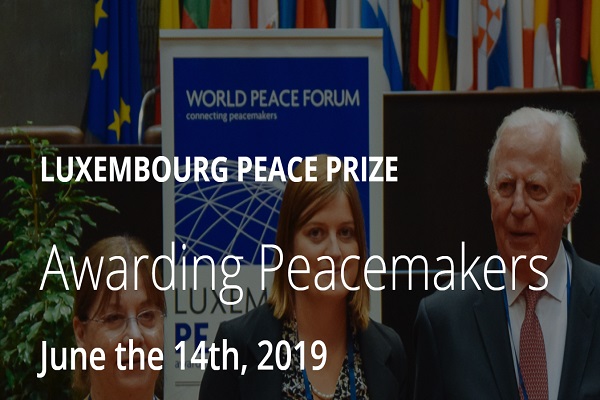 On Friday 14 June 2019, peace activists from around the world will gather at the historic European Parliament Schuman Building in Luxembourg to celebrate the 2019 Luxembourg Peace Prize Laureates.
14 June has a special significance to the Schengen Peace Foundation which initiates the event. In 1985, France, Belgium, Netherlands, Luxembourg and West Germany signed the Schengen Agreement on this date. The agreement proposed the gradual abolition of border checks at the signatories' common borders and the harmonisation of visa policies. The Schengen area now includes 26 member states and the common visa policy covers a population of over 400 million people.
For the eighth consecutive year, the Schengen Peace Foundation and the World Peace Forum will be awarding the prestigious Luxembourg Peace Prize to outstanding peacemakers and activists in Luxembourg. The award comes in alignment with the efforts of the Schengen Peace Foundation, founded in 2005, and approved in 2007 by His Royal Highness Grand Duke Henri, as a Peace---Think---Tank, supporting peacebuilding.
The distinguished peace makers of 2019 represent a diverse mix of activists, educators, leaders and artists from all corners of the globe in ten categories. Luxembourg Peace Prize Laureates of 2019 include:
- Outstanding Peace Activists: Masami Saionji and Hiroo Saionji. Masami Saionji is a spiritual leader and lecturer who succeeds the work of her adoptive father, Masahisa Goi, who initiated a movement for world peace through the universal prayer May Peace Prevail on Earth. For his part, Hiroo Saionji was responsible for establishing the Goi Peace Foundation and May Peace Prevail On Earth International, and oversees their direction and international activities. He travels the world promoting dialogues and initiatives for peace, notably the Creating a New Civilization initiative launched in 2005 with 14 international organisations;
- Outstanding Peace Education: Rotary International. Through their service projects, peace fellowships and scholarships, Rotary takes action to address the underlying causes of conflict, including poverty, inequality, ethnic tension, lack of access to education and unequal distribution of resources;
- Outstanding Peace Support: the Global Partnership for the Prevention of Armed Conflict (GPPAC) consists of hundreds of civil society organisations from around the world, all united by the drive and dedication to prevent violence everywhere;
- Outstanding Peace Organisation: Promundo works to promote gender equality and create a world free from violence by engaging men and boys in partnership with women and girls. Founded in 1997, they have reached approximately ten million individuals, including 4,500 health professionals, 22,000 teachers and 1,700 police, military and government officials;
- Outstanding Peace Technology: Peace Training EU's mission is to aggregate a comprehensive collection and analysis on the state-of-the-art in conflict prevention and peace building (CPPB) training in Europe and the EU. Over the period of two years, the project assessed practices, efforts and training needs of European actors;
- Outstanding Youth Peacemaker: Aware Girls is young women led organisation working for female empowerment, gender equality and peace in Pakistan. They work to strengthen the leadership capacity of young women enabling them to act as agents of social change and female empowerment in their communities;
- Outstanding Peace Journalism: Jamil Simon is a visionary peace activist, an award-winning documentary filmmaker and an expert on communication strategy. Currently, he is focused on building global awareness of peaceful solutions to conflict. He created a remarkably successful, multi-media symposium called "War Stories Peace Stories: Peace Conflict and The Media" to bring journalists and peacebuilders together for the first time and to encourage journalists to cover peace efforts more frequently;
- Outstanding Environmental Peace: Jane Goodall, DBE, founder of the Jane Goodall Institute and UN Messenger of Peace, learned from her time studying wild chimpanzees and their habitats that everything is connected. This helped her innovate community-centered conservation, based on the idea that when we put local communities at the heart of conservation, we can improve the lives of people, animals and the environment. Founded in 1977, the Jane Goodall Institute (JGI) advances Dr. Goodall's holistic approach;
- Outstanding Inner Peace: Zen Master Thich Nhat Hanh is a global spiritual leader, poet and peace activist, revered throughout the world for his powerful teachings and bestselling writings on mindfulness and peace;
- Outstanding Art for Peace: Mohammed Aly Aly Abdelkhalek. Of Egyptian nationality and currently resident in Catalonia in Spain, Mohammed is a film and television actor in Egypt. He produced and starred in the film "The Other Land", based on the epic of current immigration and highlighted by his values of humanity. Its objective is that the future of the African continent is in collaboration with Europe.
For more information, visit https://luxembourgpeaceprize.org/.