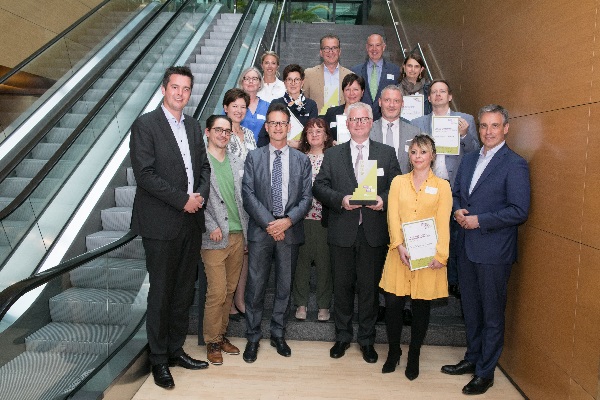 2019 winners with Claude Meisch, Lex Delles, Carlo Thelen, Tom Baumert, Christiane Wickler and Caroline Jenner (CEO Junior Achievement); Credit: Jonk Entrepreneuren
Six secondary schools participated in the second edition of "The Entrepreneurship School" (TES) Awards competition, organised by Jonk Entrepreneuren Luxembourg.
At the national level, the "Entrepreneurial School" profile was introduced into the Luxembourg education system in November 2016. Since then, four secondary schools have adopted the "entrepreneurship" profile and developed different paedagogical concepts since the start of the 2017-2018 academic year.
At the same time, in order to make entrepreneurial education initiatives more visible, Jonk Entrepreneuren Luxembourg has been organising an annual national "Entrepreneurial School Awards" (TES-Awards) over the past two years to encourage all schools to develop their range of initiatives for students.
Six secondary schools entered the competition this year: Lycée technique de Lallange; Ecole de Commerce et de Gestion; Ecole Privée Marie-Consolatrice; Lycée technique Agricole; Ecole Privée Sainte-Anne; Lycée technique d'Ettelbruck. The six participants submitted an application that was analysed by a jury made up of representatives from the education and economic sectors.
At the award ceremony, held at the Chamber of Commerce in Luxembourg-Kirchberg, the organisers announced this year's TES-Awards winner: the École de Commerce et de Gestion (ECG). The school won as a result of its implementation of the vision and objectives established at the beginning of the academic year, as well as its participation in international projects and its emphasis on entrepreneurial education in economics and other cross-cutting themes. The ECG will participate in the European TES-Awards ceremony on 16 and 17 October 2019 in Helsinki.
For its part, the Lycée technique Agricole (LTA) won the "TES-Awards - VET School" prize for the creation of a rich offer of entrepreneurial activities intended not only for students but also for teachers. The school is actively involved in EU projects and entrepreneurship is present in the DNA of this secondary school that wants to train young farmers to be able to take over the family business. The LTA will also be present in Helsinki and will have the opportunity to participate in the contest for the winners of the VET School Award.
Similarly, two schools won the "Entrepreneurship Education Activities" prize: the Lycée Technique de Lallange and the Ecole Privée Sainte-Anne. This award recognises the schools' successful implementation of a multitude of entrepreneurial activities within their respective institutions. The Ecole Privée Marie-Consolatrice won the "Community and Collaboration" prize, which rewarded the way in which the school manages to include the community on a regular basis while integrating social issues into its action plan.
Finally, the Lycée technique d'Ettelbruck received the "Entrepreneurial Vision and Plan Award" for its clear vision and focus on sustainable development, which will lead to the implementation of innovative measures in the future.