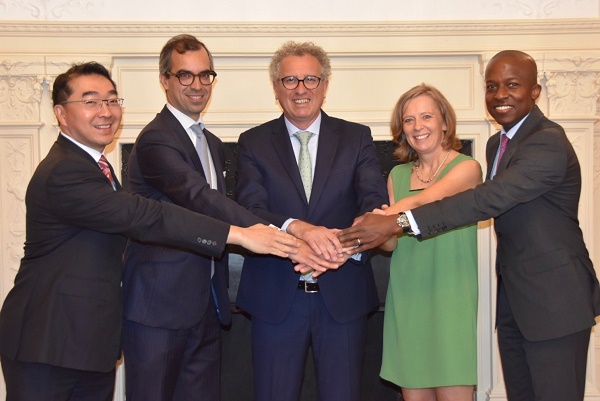 L-R: Jay Koh, Lightsmith Group; Frederic Brodach, Serimus Hydro; Pierre Gramegna, Minister of Finance; Corinne Molitor, Innpact; Serge Mayaka, Impact Capitalyst; Credit: MFIN
The International Climate Finance Accelerator Luxembourg (ICFA) has announced the first four winners of its selection of fund managers.
On the occasion of the first Luxembourg Sustainable Finance Forum, held in Luxembourg on 30 May 2018, the ICFA announced the following winners of its first selection of fund managers: Empower New Energy, an investment company offering clean and affordable energy financing solutions in developing countries; Impact Capitalyst, a fund manager investing in sustainable agricultural businesses active in sub-Saharan Africa; Serimus Hydro, an asset manager specialising in the financing of small hydropower plants; Uberis Capital, an investment company with societal impacts active in emerging countries.
In addition, Lightsmith Group, an investment company specialising in environmental technologies, has been awarded the title "ICFA Ambassador" for its commitment to climate finance.
The four finalists were nominated by the ICFA Board after a selection by an independent committee. The selection is based on the quality of the candidates' profiles and a special effort has been made to ensure an equitable representation of the different strategies as well as the countries and regions in which the projects of the managers will contribute to the fight against global warming.
The ICFA was launched in June 2017 by the Ministry of Finance and the Ministry of Sustainable Development and Infrastructure, together with a group of private actors with the aim of creating the necessary structures for climate finance, notably by offering support to investment fund managers, both nascent and innovative, who wish to invest in projects with a measurable impact in the fight against climate change. Two-thirds of the initiative is financed by the Ministry of Finance and the Ministry of Sustainable Development and Infrastructure and the remainder by the private sector. It is fully in line with Luxembourg's commitment to mobilise its financial centre in the fight against climate change.