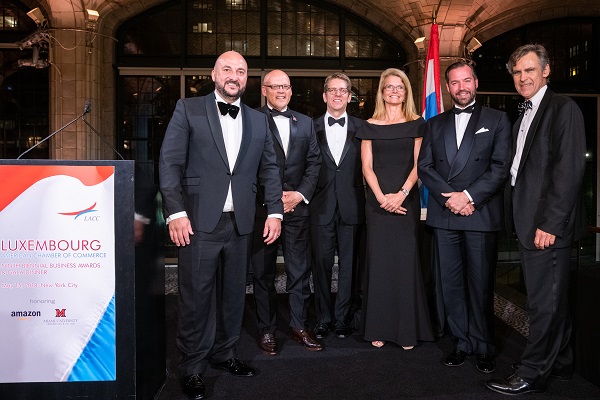 (L-R): Etienne Schneider, Deputy Prime Minister, Minister of the Economy; Gregory Crawford, President of the University of Miami; Jay Carney, Senior Vice President, Amazon; Renate Crawford; HRH the Hereditary Grand Duke; Michel Franck, President LACC; Credit: MECO
On Tuesday 15 May 2018, in the presence of Their Royal Highnesses the Hereditary Grand Duke and the Hereditary Grand Duchess, as well as Luxembourg's Deputy Prime Minister and Minister of the Economy, Étienne Schneider, the Luxembourg-American Business Award was awarded to Amazon at a gala event in New York organised by the Luxembourg-American Chamber of Commerce and the Luxembourg Trade & Investment Office in New York.
This distinction is conferred every two years on an American company established in Luxembourg in order to honour the economic relations between the Grand Duchy and the United States. Amazon is a global player in e-commerce and cloud computing, with more than 1,500 employees at its European head office in Luxembourg. Amazon is the first service provider to receive the Luxembourg American Business Award since the award was created in 1999. In the past, Goodyear Rubber & Tire Company, Dupont, Guardian Industries, Avery Dennison Corporation, Delphi Corporation, Husky Injection Molding Systems, Airtech Advanced Materials Group and Ampacet Corporation had the honour of being winners.
At the award ceremony, Minister Schneider said "Amazon has always been at the forefront of technological innovation and new approaches to the customer experience. Luxembourg and Amazon share a common philosophy: passion for innovation and excellence."
At this ninth edition of the Luxembourg-American Business Award, the University of Miami (Ohio) received an "Honorary Business Award" for its recognised excellence in creating links between the United States and the Grand Duchy in the world academic and economic. Since 1968, the University of Miami has a European branch in Luxembourg - the John E. Dolibois European Center of the University of Miami (MUDEC).
The sculptures by Luxembourg resident artist, Ben Carter, entitled "Building Bridges" and "CityScape", were presented by the Hereditary Grand Ducal couple to Amazon and Miami University.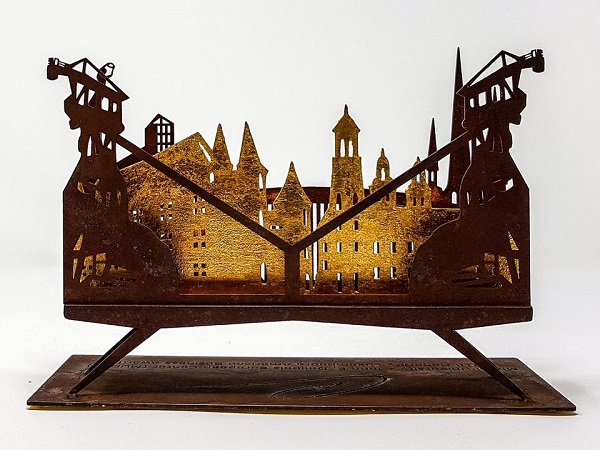 Photo by Patrick Osterblad