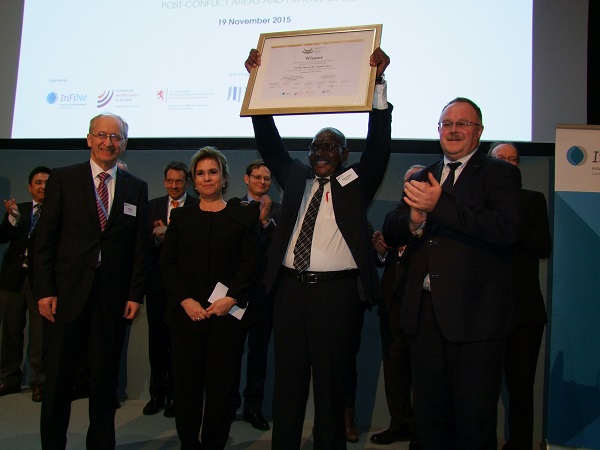 At Thursday evening's 6th European Microfinance Award at the European Investment Bank in Luxembourg-Kirchberg, Crédit Rural de Guinée (CRG) was announced as the overall winner by HRH the Grand Duchess Maria Teresa and was awarded the prize of €100,000.
This year, the topic was focused on Microfinance in Post-disaster, Post-conflict Areas & Fragile States, with jury members composed from the European Microfinance Platform (e-MFP) and Inclusive Finance Network Luxembourg (InFiNe.lu)) having first selected the three finalists in September who then went on to compete for the €100,000 prize which was presented during the annual European Microfinance Week.
Dr Werner Hoyer, President of the European Investment Bank (EIB) said "financial inclusion can be a lifeline for societies affected by terrible events". He referred to the recent terrorist attacks - "When it hit Paris, it hit all of us in Europe". He referred also to natural disasters including a typhoon in the Philippines and a tropical storm in Cape Verde, as well as migrants forced to flee their country. "It is not enough to talk about internal security, but more important to talk about the causes of people leaving their country". He referred to all 47 projects which applied in the first round, all of which "provide a financial lifeline for communities to rebuild".
Peter Maurer, President of the International Committee of the Red Cross, revealed that the average duration of displacement has increased to 17 years. "The nature of war has changed too, moving into cities, with unpredictable and indiscriminate violence becoming more and more part of everyday violence. Systems are falling apart, leaving millions of people helpless and dependent on humanitarian assistance... The situation is unsustainable, ethically and economically." He also said that we have to weigh up the financial risk of engagement against the risk of non-engagement, concluding with "We are committed to leave a sustainable footprint".
Luxembourg's Minister for Development Cooperation and Humanitarian Affairs, Romain Schneider, said "the microfinance sector is instrumental from stopping communities from collapsing completely".
HRH the Grand Duchess Maria Teresa announced the winner to wide applause. Seydouba Khatiya Camara from Crédit Rural de Guinée (CRG) was ecstatic yet gracious and humble in accepting the prize and talked about the risks he and his staff have taken in the Ebola region of Guinea. He also spoke of his desire to get Guinea to the same stage as Liberia and Sierra Leone in becoming declared Ebola-free.
These three finalist organisations were Crédit Rural de Guinée from Guinea, The First Microfinance Institution from Syria and Taytay Sa Kauswagan Inc. from the Philippines.
This year the objective of the Award was to highlight MFIs that operate in post-disaster/post-conflict areas and provide financial and non-financial services aimed to strengthen the resilience of the affected, vulnerable population. Serving clients in such markets is particularly difficult: institutions must effectively manage their operations, including managing increased portfolio risk, maintaining their physical infrastructure, staff, and access to funds - all the while staying focused on meeting the unique financial needs of clients affected by extreme events. In light of the greatest refugee crisis since WWII engulfing the Middle East and Europe, along with the growing threat of climate change increasing the severity and frequency of natural disasters, there has never been a more important time to demonstrate best practice in this field.

Crédit Rural de Guinée (CRG) was hit by the Ebola virus outbreak beginning in early 2014. Unlike many others, CRG continued to operate, while taking special measures to prevent infection and protect both clients and staff. This included contacting clients and processing payments by phone, rescheduling loans for affected entrepreneurs (including cancelling debt in cases of death), continuing disbursement of new loans, and providing clients with the means to withdraw their savings. CRG also provided grants to the families of staff who were victims of Ebola. In addition, CRG launched a national awareness campaign to inform clients and the general population of measures to prevent the transmission of the virus. In total, over 4,000 people participated in these sessions. With support from the World Food Programme, CRG is currently distributing compensation to over 1,000 Ebola survivors who continue to be stigmatised by their communities, as well as to 55,000 affected families.
The First Microfinance Institution – Syria (FMFI-S) has been operating in the country since 2003, including throughout the civil war that has ravaged the country and its people for the past four years. When its branch in Homs was destroyed, FMFI-S responded by opening two service units nearby to continue to provide clients with access to their savings and maintain loan repayments. It implemented a call centre to enable regular monitoring of its clients, including those whose homes or business were destroyed, who had lost family members, or were injured or killed. Relying on adjusted procedures that devolved power to branch managers, FMFI-S responded by rescheduling loans and providing grace periods of up to twelve months, modifying lending limits in response to inflation, and lending to new customers who had adapted their enterprises to the conflict. In the context of changing client needs, FMFI-S has continued to develop new products, including loans for solar panels, rent advances and others.
As Typhoon Haiyan headed towards the Philippines, Taytay Sa Kauswagan, Inc. (TSKI) was still dealing with the aftermath of an earthquake that had affected 15 of its 98 branches. By the time the typhoon passed, another 46 branches had been hit. Despite this, TSKI advised all staff to go into the field to check on clients, while carrying aid in the form of food, goods and other relief products. It organised fresh water distribution, and worked in coordination with nurses and other volunteers. It ordered a temporary repayment moratorium for over 37,000 clients, and disbursed over 13,000 emergency loans. To spearhead home reconstruction, TSKI provided housing materials and credit, as well as flexi- and regular loans. Disaster assistance and specific disaster loans were also extended to 351 affected staff. Within two months, these various responses allowed thousands of clients to largely recover from the devastation to lives and property.
The semi-finalists had also included: Al Amal Microfinance Bank, Yemen; Fonkoze, Haiti; Negros Women for Tomorrow Foundation (NWTF), Philippines; PAIDEK, Democratic Republic of Congo; Palestine for Credit and Development (FATEN), Palestine; Rural Finance Initiative, South Sudan; Standard Microfinance Bank, Nigeria. For this year's Award, a record 47 applications from 28 countries were received.
The European Microfinance Award was launched in 2005 by the Luxembourg Ministry of Foreign and European Affairs – Directorate for Development Cooperation and Humanitarian Affairs. It is jointly organised by the Luxembourg Development Cooperation, the European Microfinance Platform (e-MFP), and the Inclusive Finance Network Luxembourg (InFiNe.lu), in cooperation with the European Investment Bank.
Previous subjects for the Award have included Innovation for Outreach in 2006; Socially Responsible Microfinance (2008); Value Chain Finance (2010); Microfinance for Food Security (2012); and Microfinance and the Environment (2014).
Hedda Pahlson-Moller, MC for the event, announced that the theme for the 7th European Microfinance Award, to be presented in 2017, would be Education.
Photos (except at bottom) by Geoff Thompson