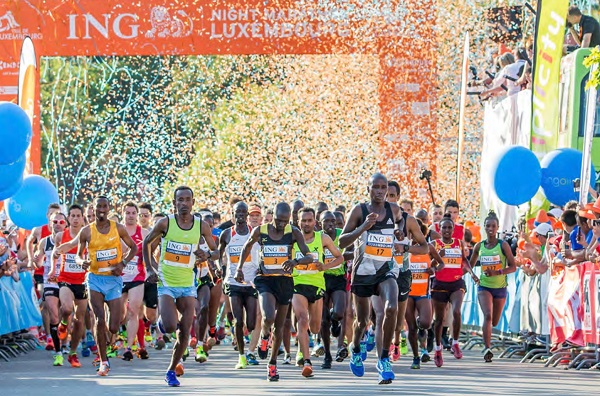 Credit: VdL
The upcoming 2019 edition of the ING Night Marathon Luxembourg is shaping up to be another great success on Saturday 1 June 2019.
The event, now in its 14th year, will once again see some 16,000 runners participate, whether they are professional athletes or amateur running enthusiasts. Among them, former winner John Komen will be returning to compete for his third victory and perhaps beat his 2016 record time of 02:12:57. Kenyan John Kopkorir Komen, born in 1977, was the winner of the 2015 and 2016 editions of the ING Night Marathon. Last year, the athlete finished second in 02:13:35, just after fellow Kenyan Edwin Kibet Kiptoo.
Other favourites to win this year are Kenyans Stephen Kipchumba Rutto, who has consistently finished among the top five in the past six marathons (including twice in second place), Joseph Munywoki (best time: 02:10:21), Moses Gaikarira (02:11:20) and former world-class runner Moses Mosop, who had his best time at the Boston Marathon with 02:03:06 (making him the participant with the best personal time at this year's ING Night Marathon), as well as Ethiopian Endale Belachew (02:11:51).
The women's favourites for the full race are Kenyan Betty Chgepkwony, who finished the Sofia marathon in 2018 in 02:37:24 in fourth place, and her compatriot Philes Ongori, who won the Rotterdam Marathon in 2011 in 02:24:20. Ethiopian athletes Zerfe Worku Boku and Belaynesh Shifera Yigezu have the advantage of having already raced in Luxembourg; Yigezu won the 2016 marathon in Luxembourg in 02:42:35.
Among the top national athletes, Bertil Muller will be competing. Muller was the best Luxembourgish participant in 2017, coming in 13th place, and in 2018, in 8th place overall. There will also be a politically neutral relay race this year, composed of Claude Turmes (déi Gréng), Minister of Energy Minister of Spatial Planning, Taina Bofferding (LSAP), Minister of the Interior and Minister for Equality between women and men, Martine Hansen (CSV), fraction leader, and Eric Thill, President of DP Norden and first alderman of the municipality of Schieren.
As in previous years, all areas of the City of Luxembourg will remain accessible on the day of the marathon. The services of the City of Luxembourg and the Grand Ducal Police will put in place mechanisms allowing residents and spectators to circulate in the neighbourhoods concerned. Indeed, all regular bus routes in the City of Luxembourg will operate according to their usual schedule until around 19:00 (16:00 for Limpertsberg and Kirchberg Plateau) and the tram will be free and run according to its usual schedule until around 17:45. For more information, see www.mobiliteit.lu or www.ing-night-marathon.lu.