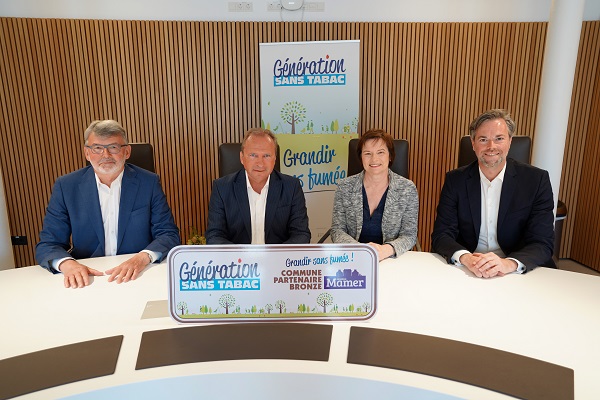 (L-R) Roger Negri, Alderman of the Municipality of Mamer; Gilles Roth, Mayor of the Municipality of Mamer, Lucienne Thommes, Director of the Fondation Cancer and Luc Feller, Alderman of the Municipality of Mamer; Credit: Fondation Cancer
On the occasion of World No Tobacco Day, Fondation Cancer has named Mamer as the first partner of the "smoke-free generation" (Generation Sans Tabac) strategy, granting it the title of "smoke-free municipality" ("Commune Sans Tabac").
Fondation Cancer launched the national "smoke-free generation" strategy in early March 2023, in collaboration with 37 partners. The initiative aims to enable children and young people today to become the first generation to live in a smoke-free environment by the year 2040.
By joining this strategy, the municipality of Mamer has committed itself to promoting the strategy and raising awareness among the local population to protect young people from smoking. The objective is to enable today's youth to grow up in a tobacco-free environment, to promote a responsible and respectful lifestyle, to reduce waste in urban spaces and to respond to the wishes of Luxembourg residents, smokers and non-smokers, who aspire to reduce smoking and protect young people, according to a study conducted by ILRES, commissioned by Fondation Cancer.
Municipalities that contribute to the development of the first smoke-free generation in Luxembourg can obtain a label at three levels – bronze, silver and gold – according to different criteria.
Lucienne Thommes, Director of the Fondation Cancer Luxembourg, said: "We are delighted to welcome the municipality of Mamer as a 'smoke-free municipality'. Its commitment is an inspiring example for other municipalities in Luxembourg and demonstrates the desire to protect the health and well-being of its citizens, especially young people. Together, we can create a smoke-free future for generations to come."
Other municipalities have reportedly also expressed their interest in joining this initiative.
The strategy revolves around six measures that aim to create the first smoke-free generation in the country. The measures include: the significant increase in the price of tobacco and similar products each year; prevention of smoking among young people through regular information campaigns; banning all types of tobacco advertising; reduced availability of tobacco products; protection of the population subjected to passive smoking and the promotion of smoking cessation; the establishment of support channels for people wishing to quit smoking.