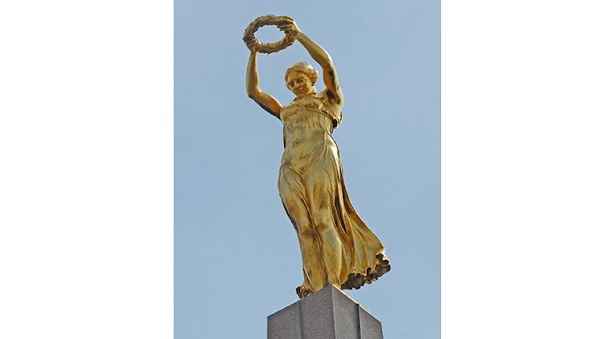 The "Golden Lady" (Gëlle Fra); Credit: fromluxtoyou.blogspot.com
As part of the celebrations around the 100th anniversary of the Monument of Remembrance (Gëlle Fra), the City of Luxembourg (Ville de Luxembourg - VdL) and the Ministry of State have organised a joint exhibition consisting of ten photographs.
These photographs were presented during an official ceremony which took place on Saturday 27 May 2023, in the presence of His Royal Highness the Grand Duke, Prime Minister Xavier Bettel and the Mayor of the City of Luxembourg, Lydie Polfer.
The photographs trace the history of the Golden Lady, created by Luxembourg sculptor Claus Cito and located in Place de la Constitution, over the last century, from its inauguration in 1923 until today. Alongside the historical snapshots to discover, such as the monument's demolition by the Nazi occupiers during the Second World War or the statue's participation in the Shanghai World Expo in 2010, there are also thematic images, such as the Golden Lady during the winter season.
The exhibition will be open to the general public at the Villa Pauly in Luxembourg-Hollerich (57 Boulevard de la Pétrusse). Admission is free and the exhibition is open Tuesday to Friday from 13:00 to 16:30.