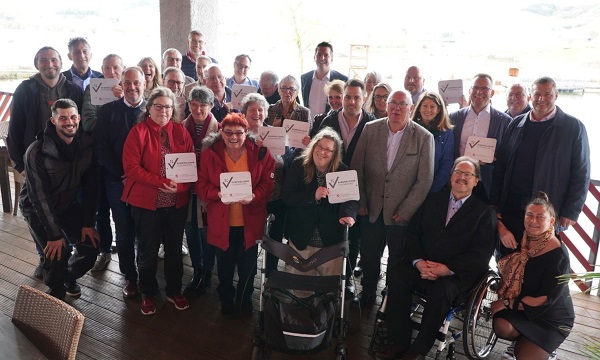 Credit: MECO
On Friday 24 March 2023, Luxembourg's Minister for Tourism, Lex Delles, officially awarded "EureWelcome" plaques to actors from various sectors, including hotels and restaurants, to reward them for barrier-free offers.

This label, awarded by the General Directorate for Tourism in collaboration with the national information and meeting centre for people with disabilities, Info-Handicap, is awarded to tourist establishments or events in recognition of their efforts in terms of accessibility and hospitality. This approach is based on the concept of "Design for all", aiming to meet the needs of all visitors including those with disabilities, the elderly and families with children.
During the ceremony, Minister Delles officially presented the "EureWelcome" plaques to the following seventeen establishments that have successfully met the criteria for the label:

* Octave market 2022
* Schueberfouer 2022
* Christmas Market 2022
* Camping du Barrage
* Camping Kockelscheuer
* Restaurant am Park
* Aquasud
* Erliefnis Baggerweier
* Mierscher Kulturhaus
* Bertrange municipal administration
* Centre sportif Niki Bettendorf
* Château Schauwenburg
* Maison Greisch
* Centre ArcA
* Institut St-Joseph
* "History of Commerce in the UNESCO-Area" augmented reality (AR) walk
* Helix - POST Luxembourg headquarters
191 accommodation facilities, cultural sites and museums, railway stations and events currently hold the "EureWelcome" label. The labelled establishments are also listed on the website www.eurewelcome.lu.
During his speech, the Minister for Tourism stated that "Luxembourg is a destination that is keen to welcome all tourists and residents in the best possible conditions. This of course also applies to people with special needs, whether they are disabled, parents or elderly citizens. The 'EureWelcome' label plays a key role in this context, as it supports establishments and institutions in their integration efforts and at the same time increase their attractiveness. An approach that benefits society as a whole. I would like to congratulate the actors of the Luxembourg tourism sector for their inclusive approach and to encourage them to continue along this path."
The Visit Luxembourg website of the national agency Luxembourg for Tourism (LFT) has introduced the new category "barrier-free travel", which lists places and facilities that hold the "EureWelcome" label: https://www.visitluxembourg.com/fr/planifier-son-voyage/voyager-sans-obstacle