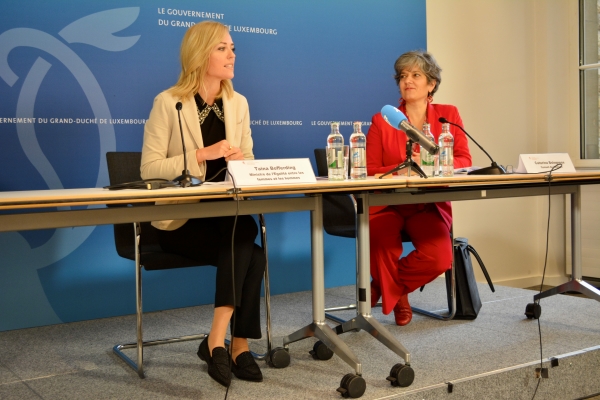 (L-R) Taina Bofferding, Minister of Equality between Women and Men; Caterina Bolognese, Head of the Gender Equality Division of the Council of Europe's Directorate General of Democracy; Credit: MEGA
On Wednesday 23 November 2022, Luxembourg's Minister of Equality between Women and Men, Taina Bofferding, launched the new information and awareness campaign entitled "Sexismus: Erkenn and. Schwätz and a. Stopp et!", in the presence of Caterina Bolognese, Head of the Gender Equality Division of the Council of Europe's Directorate General of Democracy.
This campaign draws upon the work by the Council of Europe on the subject, namely the 2019 Recommendation on Preventing and Combating Sexism. The campaign's objectives are to provide a definition of sexism, showcase its various aspects and prompt behavioural changes.
Minister Bofferding explained that "sexism is a very sensitive matter. Admitting to having been exposed to sexism, to sexual harassment and gender oppression, is a daunting endeavour for victims. This is why we as a society should never remain indifferent to sexism".
According to the minister, sexism is present in all aspects of life and concerns all of society, even if girls and women are most affected. Sexism is not an abstract phenomenon, but consists of any act, gesture, image, verbal or written word, behaviour or policy that takes place in the public or private sphere, online or offline, and that is based on the idea that a person or group of people are inferior because of their sex.
Sexism can result in the infringement of human dignity and rights and can lead to suffering and damages of a physical, sexual, psychological or socioeconomic nature. Sexism is an intimidating, hostile, degrading, humiliating or offensive act. It hurts emancipation and the full and complete realisation of human rights and reinforces gender stereotypes. In its most destructive form, sexism can lead to open aggression and physical and psychological violence.
The campaign "Sexismus: Erkenn et. Schwätz et un. Stopp et!" consists of seven audiovisual clips strategically broadcast via television, radio, cinema, on different websites as well as social media, an action page, and a brochure, to illustrate the multidimensional aspect of sexism and its prevalence in the different aspects of life. In this respect, Minister Bofferding explained: "Indeed, sexism is made by society. Therefore, I also see the opportunity and possibility that society can rid itself of it. Every one of us can take action via talks and exchanges between family, friends and with colleagues at work. In a nutshell, in all areas where it is possible to take initiative and point out sexism and incite people to refrain from sexist behaviour."
Caterina Bolognese, Head of the Gender Equality Division at the Council of Europe stressed the importance of international mobilisation efforts to fight against sexism: "We welcome this important initiative of the Luxembourg government and wish to thank the Minister for her work. The Council of Europe is a long-time ally of the Ministry of Equality between Women and Men and we encourage other Member States to follow this example. The existence of a shared vision in our 46 countries in combating sexism is an important step forward in promoting gender equality in our everyday lives."
Further information is available online via www.sexismus.lu, www.sexism.lu and www.sexisme.lu.