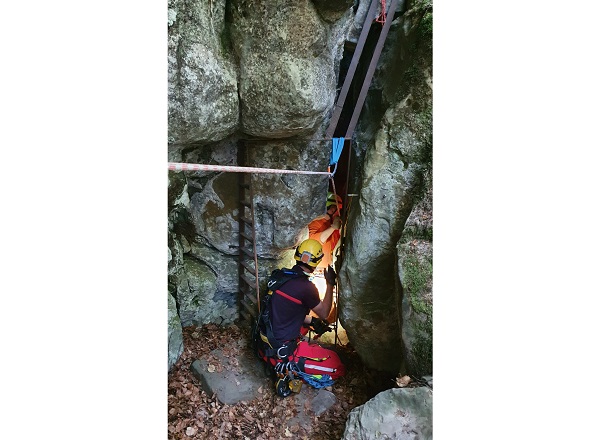 Credit: CGDIS
The Grand Ducal Fire and Rescue Corps (Corps grand-ducal d'incendie et de secours - CGDIS) has reported the rescue of a speleologist (caver) following a rockfall in a cave in Berdorf.
In the late morning of Friday 30 September 2022, a member of an expedition of speleologists contacted the emergency services after another member of the team had been suffered a head injury in a rockfall in Sainte Barbe cave in Berdorf and was unable to reach the exit on his own.
The reconnaissance and intervention group for dangerous environments (Groupe de Reconnaissance et d'Intervention en Milieu Périlleux - GRIMP) flew by helicopter to the scene in order to rescue the victim, who was conscious but trapped about 50 metres from the exit.
According to the CGDIS, the rescue operations proved complicated by the narrowness of certain passages which required widening the spaces in different places. After six hours of efforts, the injured individual received treatment from a SAMU emergency medical service team and was transported by helicopter to hospital. The individual's condition is described as stable and his life is not in danger.
About 30 firefighters, including fifteen from GRIMP, were involved in this rescue operation.