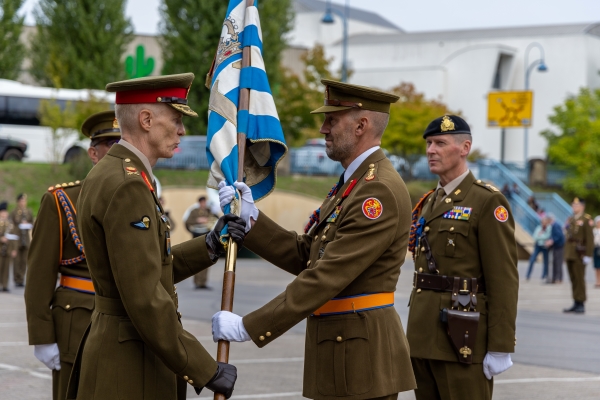 (L-R) General Steve Thull, Chief of Staff of the Army; Colonel Alain Schoeben, Commander of the Forces; Credit: © Luxembourg Army
On Friday 23 September 2022, in the presence of Luxembourg's Deputy Prime Minister and Minister of Defence, Francois Bausch, Colonel Alain Schoeben took office as Commander of the Armed Forces, replacing Colonel Yves Kalmes, who asserted his rights to the retirement.
In addition, a total of 28 soldiers, including five of Portuguese nationality, were sworn in at a ceremony held at Deich site in Ettelbruck.
The ceremony was the 43rd passing-out parade of volunteer military recruits for the Luxembourg Army and was attended by Minister Bausch.
The ceremony marks the completion of four months of basic training for the volunteers. This phase aims to prepare recruits for their future military activities within the Army.
Then, took place the ceremony of handing over of the function of the commander of the Forces of the Army between the colonel Yves Kalmes and his successor the colonel Alain Schoeben.
In his speech, Minister Bausch thanked Colonel Kalmes for his commitment to the Luxembourg Army. He then welcomed Colonel Alain Schoeben in whom he places all his trust for the pursuit of the major projects of the Luxembourg army.