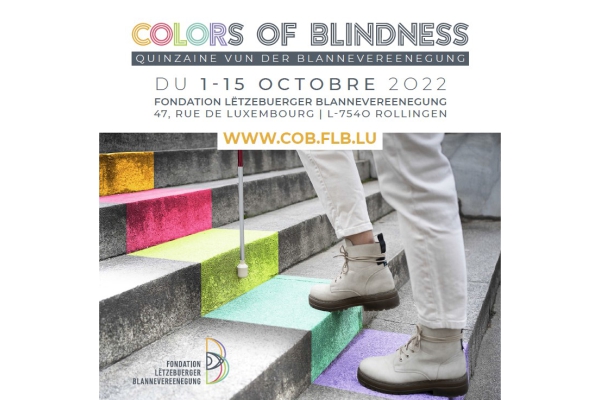 Credit: FLB
The Fondation Lëtzebuerger Blannevereenegung (FLB), a Luxembourgish association for the blind, as part of the "colors of blindness" fortnight and in cooperation with other organisations in the sector, announced various events between 1 and 15 October 2022 for the benefit of blind and partially sighted people in Luxembourg.
The events are aimed to raise public awareness of the needs and challenges of blind and visually impaired people. A series of workshops, exhibitions, training courses and conferences open to the interested public are planned at the Foundation's headquarters in Rollingen/Mersch:
Tuesday 4 October 2022: Expo and Senior Workshops
Wednesday 5 October 2022: Expo and Youth Workshops
Thursday 6 October 2022: Dinner in the Dark
Friday 7 October 2022: Conference "New means of locomotion"
Tuesday 11 October 2022: Expo and Senior Workshops
Wednesday 12 October 2022: Youth Expo and Workshops
Friday 14 October 2022: Training "Daily visual impairment, challenges and issues"
On Thursday 13 October at 19:00, in collaboration with the City of Luxembourg (Ville de Luxembourg - VdL), a benefit concert with Nastassia Simonnet, a blind soprano, who will perform accompanied by Robert Kania, will take place at the conservatory of the City of Luxembourg. This public concert is intended for the benefit of the blind and visually impaired in Luxembourg and the entrance fee will be collected in the form of a donation at the entrance.
An inauguration session on 4 October 2022 at 09:00 is also organised in the presence of Minister of Family and Integration and the Greater Region, Corinne Cahen, at the Foundation premises in Rollingen.
Further information on events is available online via: https://cob.flb.lu.