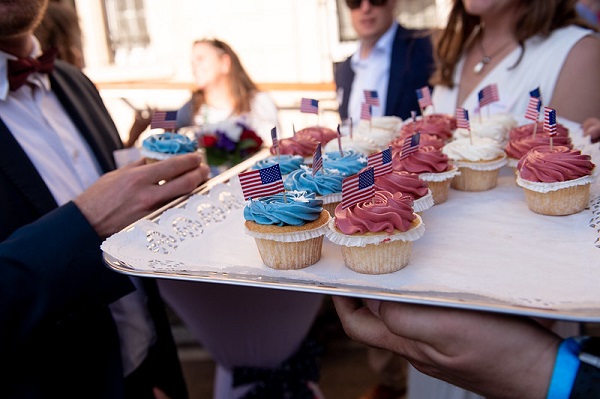 Themed cupcakes at the US Embassy in Luxembourg's Independence Day reception on 29 June 2022; Credit: US Embassy in Luxembourg
Today, Monday 4 July 2022, marks Independence Day (also known as the Fourth of July) in the United States (US), a federal holiday commemorating the adoption of the Declaration of Independence on 4 July 1776.
On this date in 1776, the Second Continental Congress adopted the Declaration of Independence, officially announcing the separation of the thirteen colonies from Great Britain amid the American Revolutionary War (1775-1783).
US Independence Day has been celebrated as a federal holiday on 4 July each year since 1941. Celebrations typically include firework displays, parades, barbecues, themed parties, family get-togethers and outings, among other activities. Following two years of muted celebrations due to the COVID-19 pandemic, this year's Fourth of July celebrations are taking place against the backdrop of war in Ukraine and a feeling of divisiveness resulting from the US Supreme Court's recent Roe v Wade abortion ruling.
War in Ukraine
In his speech at the Independence Day reception hosted by the US Embassy in Luxembourg on Wednesday 29 June 2022, Ambassador Thomas "Tom" Barrett reflected on Russia's "unjustifiable" invasion of Ukraine (which began on Thursday 24 February 2022) and praised the bravery of the Ukrainian people in the face of such aggression.
"This year we chose, as our theme for today's event, 'Let Freedom Ring', to remind us of the importance of this basic principle, that for many this struggle continues, and that we will continue to uphold the just fight for human freedom", he stated. "Contrary to what the Russian state anticipated, the Ukrainian people have truly made 'freedom ring' across the world. They have defended their homeland with true courage and resilience. This battle between autocracy and democracy and Ukraine's brave fight has united nations across the world to condemn the conduct of Russia and stand together for what we all know as truth: Freedom must and will prevail. Let that ring loud and clear!"
Roe v Wade
On Friday 24 June 2022, the US Supreme Court overturned the landmark 1973 Roe v Wade ruling that recognised women's constitutional right to abortion. Whilst anti-abortion activists have praised this decision, the ruling has sparked protests across the US and around the world.
US President Joe Biden described it as "a sad day for the Court and for the country" and called on the electorate to use their vote to "have the final word" in the midterm elections in November 2022. Similarly, US Secretary of State, Antony Blinken, assured that "the State Department will remain fully committed to helping provide access to reproductive health services and advancing reproductive rights around the world".
A couple of protests have already taken place in Luxembourg in response to the Supreme Court's recent ruling as well.
In this context, Chronicle.lu reached out to several women* who are originally from the US but now live in Luxembourg for their perspective on how they typically celebrate Independence Day and how the mood has been affected this year by the Supreme Court's decisions.
"I have wonderful memories celebrating the Fourth of July when I was younger. Barbecues, bonfires and roasting marshmallows alongside a freshwater lake, writing messages in the air with sparklers at dusk and huddling close to loved ones to watch fireworks as the summer evening coolness settled in. That childlike, carefree Fourth of July spirit accompanied by a feeling of warm contentment with where I was being raised", recalled Sheena. "However, recent decisions make it difficult to celebrate the Fourth of July and be particularly proud of my country right now in ways I can only begin to express. I'm tired of the line separating church and state blur into nothing. I'm tired of women or those with female reproductive organs being seen as vessels with no bodily autonomy. I'm tired of the rhetoric that demonises and blames us when there's another vital factor involved to result in the fertilisation of an egg. I'm just so tired and disappointed".
Her thoughts were echoed in the words of fellow US citizen and Luxembourg resident, Wendy, who said: "I've always celebrated the Fourth of July with my [children] in Luxembourg – I wanted them to take part in American traditions, because they are also American. The 4th of July was an important holiday to me growing up – going to the parade in my hometown, getting to march in it during my [secondary] school years, going to our version of the Schueberfoeur set up for the holiday, grilling out and watching the fireworks".
"There's more to it too, of course. It's the national holiday – the day we all celebrate the United States", she continued, adding that whilst she deemed herself patriotic, "in this case, love isn't blind". She elaborated: "It's important to be critical, to be a watchdog, to be alert. I was a child during the Vietnam war, and then came Watergate. So I don't think I've ever lived in a bubble thinking my country was infallible".
Wendy added that her daughter had been living and studying in the US for the past six years but was not going to celebrate today's holiday. "It was her dream to go to university there, and she achieved that and loved it. She still loves life there, but she told me today that she doesn't feel like celebrating. I think a lot of people and women especially feel that way – betrayed, hurt, disappointed, angry. I feel that way too". Nevertheless, Wendy will celebrate this year with her traditional flag cake: "When I celebrate the Fourth [of July], I will be celebrating my roots and all the good things about the US. And simultaneously, I will do what I can to change gun laws and to voice my disdain for the Supreme Court's decision on women's rights to abortion. That means to vote, of course, but also to try to more actively change things".
Del, a Luxembourg-US national living in the Grand Duchy for the past five years, explained how the recent ruling (paired with other factors) made her question whether she wanted to retain her US citizenship. "[This ruling] takes us backwards and is not representative of what the majority of Americans believe", she lamented. Having lived overseas for several years, she felt that her values were more closely aligned to her adoptive home, Luxembourg, than with those of the US today. "The longer I'm here, the less American I feel". She cited greater access to certain rights and not having to worry about guns as some of the reasons why she felt more at home in Luxembourg than in her birthplace. She noted that she would not be celebrating the Fourth of July this year, adding that she had enjoyed Luxembourg's National Day far more.
Returning to the subject of Roe v Wade, Del stressed that this decision would most negatively impact women who already have limited resources. "It's about body autonomy. We can't make decisions about our body, our future, our careers. This is about control", she said, adding that the ruling took the US back to the times when women were second-class citizens. She feared also that it would not end here.
Del has been a strong advocate of women's rights for many years. She described the current situation back in the US as "the Divided States of America", blaming former President Donald Trump in part for creating this feeling of divisiveness in the US, where "only some people have rights". She lamented the perceived loss of the US' past values of liberty, freedom and diversity.
For her part, AnnMarie, an American living in Luxembourg for the last four years, shared how her family normally celebrated Independence Day during a barbecue with friends, "especially so our son can celebrate his US side". Things were different this year, however: "I refuse to acknowledge it as a celebration. There are no words to explain the level of anger and disgust I have towards the Supreme Court over the last week. It seems as if they have a singular mission to destroy the US from within".
AnnMarie continued: "I was watching the swearing in of Ketanji Brown Jackson to the Supreme Court [on 30 June] and in her oath she swears to protect the US from enemies both foreign and domestic. As she repeated those words I was moved to tears. Until now those were such simple words but now they carry such a different meaning and burden".
Hanne, who is originally from Michigan, explained how a lot of families in her home state celebrated the Fourth of July by "going to a beach during the day and having a barbecue by the lake". She added: "Usually people grill hotdogs and burgers and sausages. Corn on the cob is also really common. Afterwards, there's ice cream. Then after spending the day in the sun, in the evening families go to fireworks shows. There are fireworks shows all over the place. Normally people drive to a field or parking lot near the fireworks and lay out blankets and lawn chairs to watch".
"After Roe v wade though, I don't really feel like celebrating the Fourth of July this year", Hanne added.
Fellow US citizen Vanessa, whose children were born abroad (Ireland and Luxembourg) and have not yet been to the US, noted that the "Fourth of July is an important day for me to remind myself and my kids that we are American and that although at this moment in history it can be difficult to be patriotic, it is important to celebrate our fight for independence all those years ago". She added: "Our constitution was founded on some pretty great ideals but unfortunately that same constitution is used in the modern day to support some very archaic policies. While some of our founding fathers were forward thinking, some of our current leaders are very backward thinking. Perhaps if we can remember what is great about our country we can try to affect change to ACTUALLY make American great again. I'm borrowing Trump's slogan because, although he was the complete wrong man for the job, it's a good slogan if used in the right context".
Specifically referring to the overturning of Roe v Wade, Vanessa said that she was "truly heartbroken", adding: "I'm not a very political person but I believe strongly in a woman's right to choose. […] I'm horrified for women in the US and want to fight this any way I can".
*Only first names have been used in this article to protect the identities of these women.
According to STATEC, Luxembourg's national statistics portal, there were 2,170 US citizens living in the Grand Duchy as of 1 January 2022.