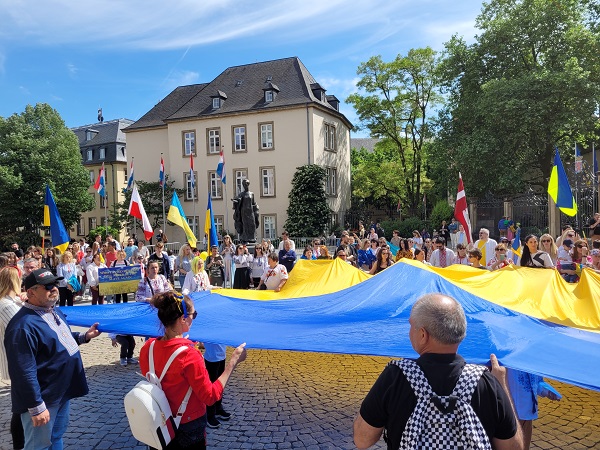 Credit: Jazmin Campbell
On Saturday afternoon, a couple of hundred people took to the streets of Luxembourg City to both voice their opposition to the war raged by Russia on Ukraine and to honour Vyshyvanka Day, an annual celebration of the Ukrainian folk traditions of creating and wearing embroidered clothing.
The peace march started outside Luxembourg Railway Station (Gare Centrale) just after 15:00 on Saturday 21 May 2022, before moving through the streets of the capital towards Place de la Clairefontaine in the city centre. Many of the participants were dressed in vyshyvanka (traditional Ukrainian embroidered shirts) to mark Vyshyvanka Day, a celebration held every third Thursday of May; this year, it fell on Thursday 19 May, although Saturday's peace march was an opportunity for Ukrainians and their allies in Luxembourg to honour this occasion whilst demanding an end to Russian military aggression against Ukraine.
Waving Ukrainian and other European flags, the demonstrators chanted slogans in Ukrainian and English, such as "Slava Ukraini" (glory to Ukraine), "Save Ukraine" and "Ukraine is part of Europe", and sang Ukrainian folk songs, as well as this year's Eurovision winning song "Stefania" by Ukrainian folk-rap group Kalush Orchestra.
Once the march had reached its destination in Place de Clairefontaine in Luxembourg-Ville, representatives of LUkraine asbl, the organisers of the peace march, asked demonstrators to reflect on what Vyshyvanka Day meant for them. Olena Klopota, who is responsible for demonstrations at LUkraine asbl, recalled that Ukraine is "a nation of creators", referencing its role as one of the world's largest agricultural producers, as well as its considerable cultural legacy, part of which is represented by vyshyvanka. Whilst such outfits are traditionally worn on celebratory occasions, "today many are wearing [them] as special armour", she said, with celebrations having to wait for now. Ms Klopota continued: "Ukraine is brave. We fight against occupation and I know we will win. We will be free in our land".
Speaking to Chronicle.lu, Nicolas Zharov, President of LUkraine asbl, explained why such protests continue to be important, particularly from a psychological point of view. "People get used to everything. They are tired", he admitted. "We are here to remind people that the war is still going on. People, children are dying every day. So we are out at every occasion to remind people we are still here. Don't think only of Ukraine, but think of the crimes being committed there. It is not something far away. We cannot close our eyes and ears. Our main job is to be on the frontline, just as Ukraine is on the frontline of Europe right now".
Chronicle.lu also spoke with several demonstrators, including Ilona Goncharenko, a local language tutor who is originally from Ukraine, who said that she attended such events in support of her father who is among those currently fighting for Ukraine in the east of the country. "We are here for Ukrainians: our fathers, our husbands are there. Alone it is difficult to defeat the enemy. We have to take to the streets. Otherwise, who would know? It is about human rights", she elaborated. "It's the least we can do from here". Ms Goncharenko also recently took up a job in a local Luxembourgish secondary school to support newly arrived Ukrainian children. "My choice to become a part of the education teams was not for money either, rather to do what I do best to help children moving to Luxembourg", she noted.
Another demonstrator, Valeria Tsymbal, who arrived in Luxembourg last month to visit her aunt, explained that she, like several other Ukrainians, planned to return to her homeland in the near future. She noted that she had not fled her country because of the war, but that the current situation was difficult even in regions where the fighting has eased slightly, such as her city, the capital Kyiv. During her stay in Luxembourg, Ms Tsymbal has been volunteering at a warehouse supporting Ukrainians in Esch-sur-Alzette. She explained that, like her, many of the people she has met wish to go home, but either face ongoing military activity in their town or village or have no work awaiting them. With many people having fled the country, the ones who remained or return often find themselves with no customers, no students or no colleagues and thus with limited to no employment prospects.
Also speaking with Chronicle.lu, Tetyana Kugener, a Ukrainian woman who has been living in Luxembourg for almost two decades, explained that she and her husband Patrick Kugener, who is the Director of Orthopédie Felten, have been doing all they can to support LUkraine asbl and Ukrainians directly. Commenting on the meaning of Vyshyvanka Day and Saturday's peace march for her, she lamented: "I feel very sad. The biggest present for me will be victory". That being said, she was optimistic that Ukrainians would be victorious.
One local man participating in the protest explained that he and his family were also trying to do their part to help Ukrainians in Luxembourg, for instance welcoming them into their home to do their laundry or give their children a chance to play with their grandchildren. However, he and his partner speak very little English, so it helps when someone with at least a bit of knowledge of French is present to translate.
The crowd dispersed around 16:30.
Since Russia's invasion of Ukraine on Thursday 24 February 2022, LUkraine asbl, a non-profit organisation representing the Ukrainian community in Luxembourg, has been holding weekly, authorised protests in the capital.
Vyshyvanka Day
Celebated annually on the third Thursday of May, Vyshyvanka Day aims to preserve the folk traditions of wearing vyshyvanka, embroidered Ukrainian national dress. As Ilona Goncharenko explained, different regions of Ukraine typically have their own patterns, which may differ in terms of colour (often depending on what people could afford), symbolism and techniques. Some may favour geometric patterns, whilst others opt for floral patterns or symbols like birds.
Traditionally, people had their festive shirts and their everyday shirts (with fewer patterns). The shirts were long and formed part of a multi-layered traditional national dress, which may have included a skirt and / or a jacket. Necklaces with coins or crosses typically completed the outfit, but these were often expensive. People also sometimes wore special long belts and headdresses.
Although traditionally handmade by Ukrainian women, all genders and ages can wear vyshyvanka, and people today often buy rather than make their own shirts. Ukrainian poet and writer Ivan Franko (1856-1916) helped popularise the dress by being one of the first men to regularly wear embroidered shirts as part of his festive suits. He often wore the shirts under his sophisticated jackets and vests.
Similarly, Lesya Ukrainka (1871-1913), a multilingual writer, activist and feminist from Ukraine, wore traditional Ukrainian clothing to promote it.
As Ms Goncharenko explained, the Russian empire had historically tried to suppress the Ukrainian language and culture. Part of this involved portraying national Ukrainian clothing as the attire of the poor. In response, Ukraine's intellectuals tried to reawaken their language, culture and thus traditional clothing.
Today, many Ukrainians wear vyshyvanka with a sense of pride, not least on Vyshyvanka Day and in the context of the Russian invasion.