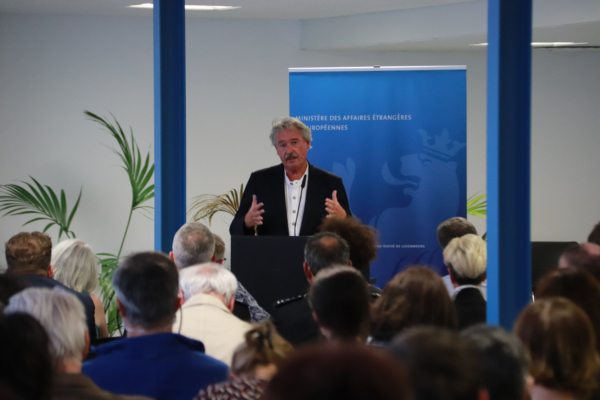 Jean Asselborn, Minister of Immigration and Asylum; Credit: MAEE
On Thursday 12 May 2022, Luxembourg's Minister of Immigration and Asylum, Jean Asselborn, held a public information session in collaboration with the Local Interests Syndicate Kirchberg (Syndicat d'intérêts locaux Kirchberg - SILK) and the Ville de Luxembourg to inform residents of the municipality of Luxembourg about the opening of a new temporary protective accommodation structure for people fleeing the war in Ukraine at the "T Building" in Luxembourg-Kirchberg.
Minister Asselborn was accompanied by Maurice Bauer, alderman of Ville de Luxembourg, Henri Bram, vice-president SILK, representatives of the National Reception Office (l'Office national de l'accueil - ONA), the concerned ministries and local NGO's Caritas and the Luxembourg Red Cross.
Local residents had the opportunity to ask their questions to the Minister, officials and supervisory staff on site.
Minister Asselborn welcomed the solidarity shown by the residents of Luxembourg during this exchange of views and thanked the municipal authorities of the Ville de Luxembourg, the ONA as well as all the ministries and organisations concerned for their contribution to the collective efforts aimed at guaranteeing a dignified reception for people who have fled the war in Ukraine.
Former building of the Court of Justice of the European Union, the "T Building" housing the future temporary protective accommodation structure will have a maximum capacity of 1,200 places. Beneficiaries of temporary protection (bénéficiaires de protection temporaire - BPT) can be accommodated there after their stay in a first reception structure. The structure will open its doors from mid-May and will welcome a mixed population, namely families and single men and women. Residents of the structure will benefit from socio-educational supervision provided by Caritas and the Red Cross.
As T Building is divided into three blocks (A, B and C) and the opening of the accommodation structure will take place in several stages. In a first phase, the 1st floor of Block A was fitted out with a maximum capacity of 151 beds. Each block (A, B and C) will be developed in three phases (per floor), each development phase lasting approximately four to eight weeks.
The National Reception Office currently manages a network of nineteen accommodation structures for people who fled the war in Ukraine with a reception capacity of 2,369 beds. As of 10 May 2022, 1,520 people from Ukraine are living in ONA structures, including 924 beneficiaries of temporary protection. A total of 3,014 people have obtained temporary protection status in Luxembourg so far.
In addition to the accommodation network for people fleeing the war in Ukraine, the ONA also accommodates applicants for international protection (demandeurs de protection internationale - DPI) in 55 accommodation structures. These 55 accommodation structures for DPIs have a maximum capacity of 3,628 beds and the current net occupancy rate is 95.5%.