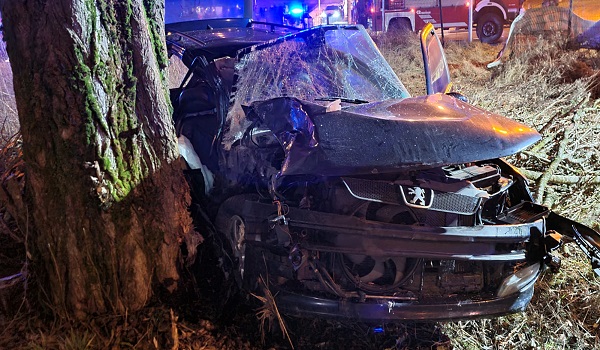 Credit: Police Grand-Ducale
The Grand Ducal Police have reported that two individuals suffered serious injuries after their car crashed into a tree in the early hours of Wednesday 26 January 2022.
The police received reports of an accident on Route de Longwy in Rodange at around 02:40 on Wednesday. According to initial information, a car with several passengers had collided with a tree.
It was later found that the vehicle had been involved in a car chase with the French police. The pursuit ended at the Luxembourg border. The car then skidded on a curve, broke through a barrier and crashed into the tree.
On site, witnesses to the accident explained that three people had fled in the direction of the petrol station. Police officers found these individuals, who had suffered minor injuries, in the immediate vicinity; they were checked and taken back to the scene of the accident. There were a total of five people in the car involved in the accident.
According to the Grand Ducal Police, there were different versions of the accident and false identities were given to the officers. Several of the victims were also under the influence of alcohol.
The public prosecutor's office was informed and ordered the confiscation of the vehicle and the identification of the suspects.
Two people were take to hospital with serious injuries, whilst two others suffered minor injuries.
Police officers also found drugs during a search and drew up a criminal complaint.