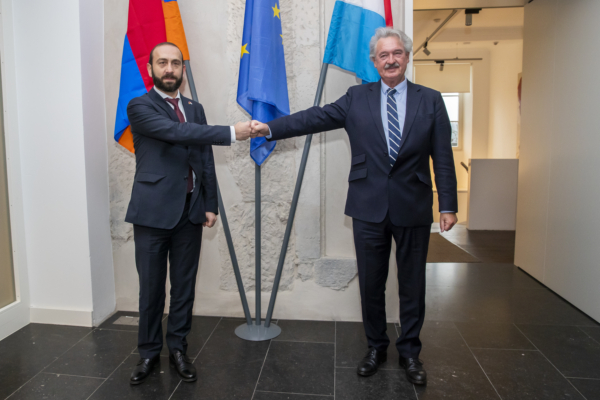 (L-R) Ararat Mirzoyan, Minister of Foreign Affairs of the Republic of Armenia; Jean Asselborn, Minister of Foreign and European Affairs.; Credit: Julien Warnand / SIP
The Minister of Foreign Affairs of the Republic of Armenia, Ararat Mirzoyan, paid a working visit to Luxembourg on 25 and 26 January 2022.
Shortly after his arrival, Minister Mirzoyan visited the commune of Schengen before then going to the University of Luxembourg where he was received by the rector of the University, Stéphane Pallage. Before going to the Ministry of Foreign Affairs, Minister Mirzoyan was welcomed by the President of the Chamber of Deputies, Fernand Etgen, and participated in an exchange of views with members of the bureau and members of the European and Foreign Affairs Committee.
Minister Mirzoyan was then received by the Minister of Foreign and European Affairs, Jean Asselborn, for a bilateral meeting at the Mansfeld building. Ministers Asselborn and Mirzoyan welcomed the good bilateral relations between Luxembourg and Armenia in the context of the celebration this year of the 30th anniversary of the establishment of diplomatic relations between the two countries. The ministers also discussed the relations between Armenia and the European Union as well as issues related to the Eastern Partnership.
Finally, the Foreign Ministers of Luxembourg and Armenia had an in-depth exchange of views on the main current European and international issues, including in particular the situation in Nagorno-Karabakh. In this regard, Minister Asselborn expressed concern about the recent violent incidents in the Nagorno-Karabakh region, while expressing his hope that these will not lead to an escalation of violence.
"It is essential that the resolution of conflicts be done through diplomatic channels and through international mechanisms and multilateral fora", noted Minister Asselborn. In this context, the Minister welcomed the fact that Armenia is committed to improving relations with its neighbors.
Subsequently, Minister Mirzoyan went to the Hotel Saint-Maximin where he was received by the Prime Minister, Minister of State, Xavier Bettel, for a working meeting. Discussions focused on bilateral relations, as well as relations between the European Union and Armenia.