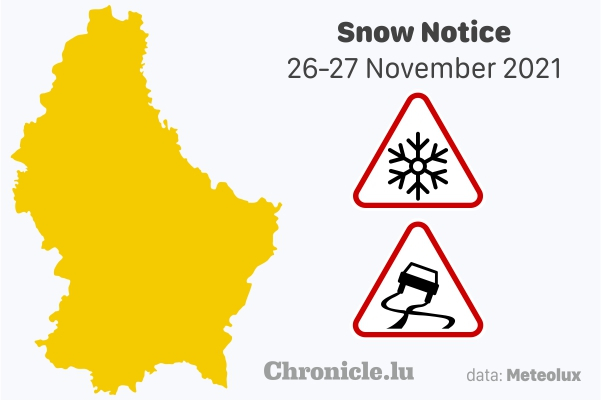 Meteolux has issued a yellow weather warning for snow and slippery roads for all of Luxembourg, set to begin on Friday evening.
The weather warning will be in place nationwide from 18:00 on Friday 26 November 2021 until 07:59 on Saturday 27 November 2021.
The day of 26 November 2021 will be covered with haze or fog in places and will be mostly dry. From the beginning of the evening around 18:00, snowfall will be expected at an altitude higher than 300m (i.e. mostly the northern region). Mixed rain and snow is expected in lower regions. Precipitation may at times be moderate in intensity and will persist until Saturday morning.
Snowfall can locally give an accumulation of 1 to 3 cm in the south and 3 to 6 cm on the highest points in the north.
Caution is advised for slippery roads due to winter precipitation.