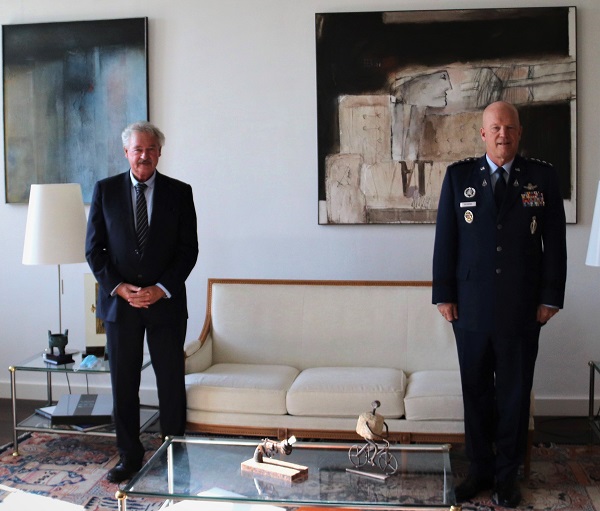 (L-R): Minister Jean Asselborn; US Space Force General Raymond;
On Tuesday 20 and Wednesday 21 July 2021, US Space Force General, John W. "Jay" Raymond, Chief of Space Operations, visited the Grand Duchy for a series of meetings, including with Luxembourg's Minister of Foreign Affairs, Jean Asselborn, at the bâtiment Mansfeld, Deputy Prime Minister, François Bausch, leadership from the Luxembourg Army, the Defence Directorate on space affairs, and SES CEO Steve Collar.
The working visit of the head of space operations was an opportunity to exchange views on bilateral relations between the United States and Luxembourg, in particular with regard to cooperation in the space field as well as in the field of defence.
General Raymond also visited the Luxembourg American Cemetery to honour the soldiers who died in the defence of Luxembourg during WWII.
Chargé Mace from the US Embassy in Luxembourg stated "It was an honour to host General Raymond for fruitful exchanges with our Luxembourg partners on the strong relationship the United States and Luxembourg continue to build in areas from defence cooperation as NATO allies to space cooperation. Luxembourg continues to be a crucial partner of the United States as we move together toward the future in space. Minister Asselborn and Deputy Prime Minister Bausch have been key pieces of that cooperation, meeting and working with U.S. officials on issues ranging from defence to climate change."
General Raymond stated "It was a pleasure to meet with Foreign Minister Asselborn to discuss Luxembourg's continued efforts in support of NATO and the future of U.S.-Luxembourg space cooperation. With increased access to space and the growing interest and investment across all space sectors, there are significant opportunities to bolster our combined space capabilities through collaboration. The U.S. Space Force looks forward to partnering with Luxembourg on security within the space domain."
Minister of Foreign Affairs, Jean Asselborn, stated "General Raymond's visit to Luxembourg is a testimony to the depth of our bilateral relations and a strong signal for a renewed transatlantic relationship. As a proud founding member of NATO, Luxembourg is strongly committed to the Alliance. In that context, Luxembourg puts particular importance on the transatlantic relation with the United States, which is certainly at the core of NATO, and especially on the specific relationship we are building together in Space with the US Department of Defense."
Deputy Prime Minister, François Bausch, stated "The visit of General John W. Raymond to Luxembourg testifies to the importance of the commitment of the Luxembourg Defence to the space sector. Through this visit, we intend to deepen and further strengthen the cooperation between the Defences of Luxembourg and the United States in the field of space and more particularly in satellite communications. The United States are the pioneers in this domain and a first choice partner for Luxembourg. Therefore we are looking forward to developing new partnerships with the United States Space Force in the near future."