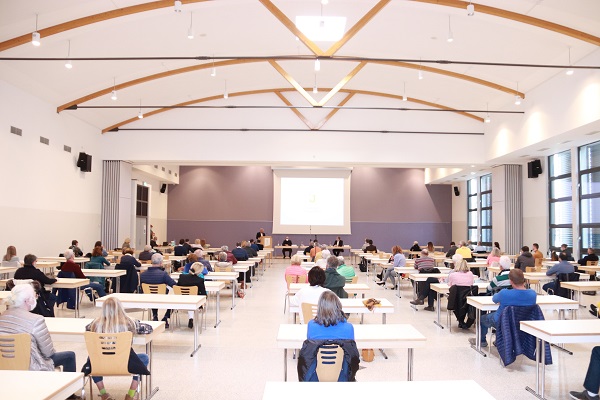 Credit: MAEE
On Wednesday 5 May 2021, Luxembourg's Minister of Foreign and European Affairs and Minister of Immigration and Asylum, Jean Asselborn, spoke with residents of the municipality of Junglinster during an information session on the opening of a new accommodation structure for applicants for international protection of the National Reception Office (ONA) in Gonderange.
The exchange took place in the presence of Romain Reitz, Mayor of the municipality of Junglinster, Françoise Hetto-Gaasch, alderwoman of the municipality of Junglinster, and Marc Crochet, Director General of Caritas Luxembourg, as well as several other partners of the ministry involved in this project.
Minister Jean Asselborn praised the solidarity shown by residents during this exchange of views. Many residents inquired about the different ways in which they could contribute to the establishment of a worthy reception structure, in particular with regard to the integration of new residents into local life and Luxembourg society.
The minister also thanked the municipal authorities for their contribution to the collective efforts aimed at guaranteeing a dignified reception of applicants for international protection in Luxembourg.
The accommodation structure, managed by Caritas Luxembourg and whose capacity will initially be limited to 50 people, mainly accommodates families. This is a so-called "temporary" structure, in which applicants for international protection may stay until they receive a response to their request for international protection.
The ONA currently has 55 accommodation facilities for applicants for international protection with a maximum reception capacity of 4,169 beds. Whilst the flow of new arrivals has slightly decreased since the start of the health crisis, reception capacities remain very limited with the occupancy rate in temporary accommodation structures standing at 94. 2%. This particularly linked to difficulties for beneficiaries of international protection, who currently represent 43.7% of those hosted by the ONA, to leave such structures.
As such, Minister Jean Asselborn reiterated his call to the various municipalities of Luxembourg to make sites available for the construction or development of new accommodation structures for applicants for international protection. He recalled that several financial and administrative aids are available to municipalities which host applicants for or beneficiaries of international protection on their territory.