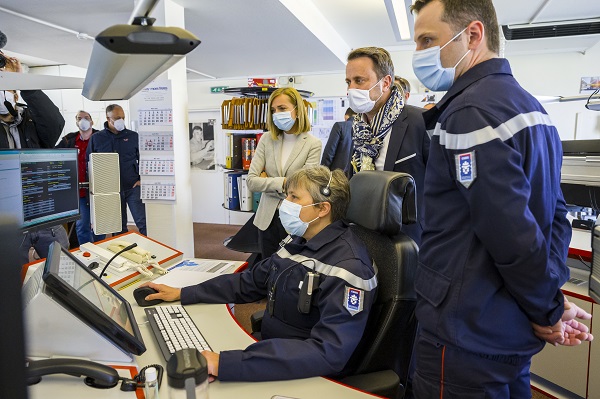 L-R: Taina Bofferding, Minister of Interior; Sandra Bettendorf, CSU112 operational coordination department; Prime Minister Xavier Bettel; Jérôme Gloden, Head of CSU112/CGO Service; Credit: SIP / Jean-Christophe Verhaegen
On Tuesday 13 April 2021, Luxembourg's Prime Minister Xavier Bettel and Minister of the Interior Taina Bofferding, accompanied by the President of the Board of Directors of the Grand-Ducal Fire and Rescue Corps (Corps grand-ducal d'incendie et de secours - CGDIS), Lydie Polfer, visited the fire and rescue centre (Centre d'incendie et de secours - CIS) in Dudelange and the emergency services call centre (Central des secours d'urgence - CSU-​112) in Luxembourg-Gasperich.
The aim of these visits was to meet with civil security officers working on the frontline in the fight against COVID-19. The ministers thanked all CGDIS staff members for having worked tirelessly in this fight for more than a year now.
During the visit to CIS Dudelange, officers explained the concept of transporting infectious patients. This was followed by an exchange with professional and volunteer firefighters who have specialised in such interventions.
Among the main topics discussed during the visit to the CSU-112 in Gasperich were the dispatching of COVID-19 patients to hospitals across the country and the contribution of the CGDIS to the operation of vaccination centres across the Grand Duchy.