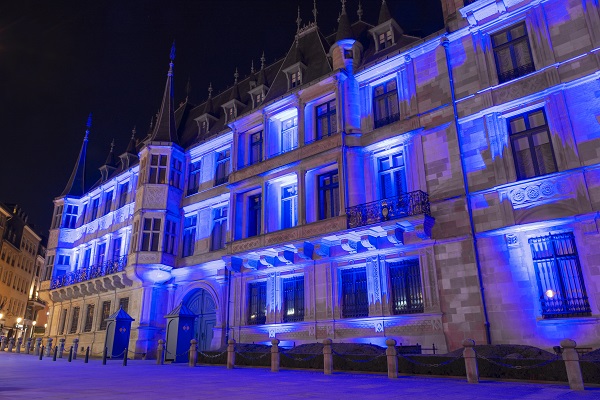 Light it up Blue on the Grand Ducal Palace; Credit: © Maison du Grand-Duc
Their Royal Highnesses the Grand Duke and the Grand Duchess are supporting the "Light it up Blue" solidarity movement by illuminating the facade of the Grand Ducal Palace in blue, from 29 March to 4 April 2021.
Being sensitive to autism spectrum disorders, the Grand Ducal couple have supported such solidarity initiatives also in the past.
This annual action, scheduled on the occasion of World Autism Awareness Day on Friday 2 April 2021, is jointly organised in Luxembourg by Autisme Luxembourg, the Autism Luxembourg Foundation and the Luxembourg Association of Parents of People with Autism.
Since April 2018, HRH the Grand Duchess has been the High Patronage of the Fondation Autisme Luxembourg.