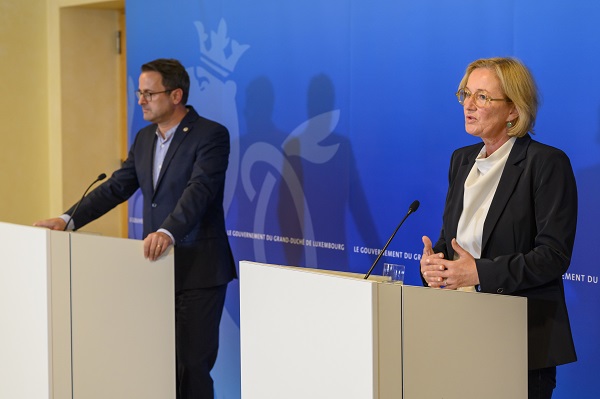 PM Xavier Bettel and Health Minister Paulette Lenert; Credit: SIP / Jean-Christophe Verhaegen
During a press conference on Tuesday afternoon, Luxembourg's Prime Minister Xavier Bettel and Minister of Health Paulette Lenert announced changes to the current COVID-19 restrictions, namely a relaxation of some measures but an extension of others.
Prime Minister Xavier Bettel began by noting that COVID-19 numbers in Luxembourg were "going in the right direction", with the measures enforced in December having contributed to this development. Last week, there was an average of 167 new cases per day and the positivity rate stood at 3.06%. That being said, he stressed the importance of avoiding a drastic surge in numbers again.
Consequently, some measures, initially set to expire next week, have been extended until the end of the month: a household can still invite over a maximum of two people from one other household; restaurants, cafes and bars will remain closed until 31 January 2021 (instead of 15 January, as previously planned); for gatherings of more than four people, masks must be worn and a two-metre physical distance must be maintained; for gatherings of more than ten people, the same measures apply, as well as the requirement to be seated.
On the other hand, schools and nurseries will reopen next week, as well as shops, hairdressers, cinemas and theatres albeit with stricter measures put in place. For instance, shops may allow a maximum of one customer per 10 square metres, regardless of the size of the establishment. Some sports will also be allowed to resume. The curfew will be pushed back to 23:00 (instead of 21:00, until 06:00).
Explaining the logic behind these changes, the Prime Minister emphasised the need to safeguard both physical and mental health. He stressed that the "psychological impact of lockdown must not be underestimated".
Health Minister Paulette Lenert added that January is a "critical" month, noting that Luxembourg had not fared as badly as neighbouring countries and praised the fact that the December wave had been "broken". Hospitals have shifted down from phase 4 to phase 3, with the possibility of moving down further to phase 2 if the current trend continued. That being said, she recognised that many people had died from the virus in the past couple of months - one of the reasons why the government felt it was not possible to completely lift lockdown restrictions at present.
The Health Minister emphasised the importance of finding the right balance, "combining maximum normality with maximum security".
The Chamber of Deputies (Luxembourg's Parliament) is set to vote on the legal text this week.