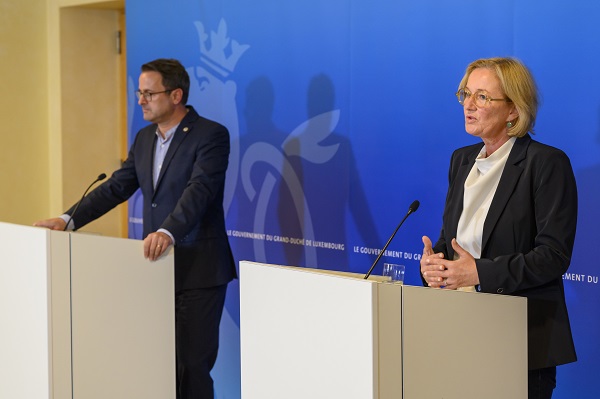 Prime Minister Xavier Bettel and Health Minister Paulette Lenert; Credit: SIP / Jean Christophe Verhaegen
During a press conference on Monday afternoon, Luxembourg's Prime Minister Xavier Bettel announced that stricter COVID-19 restrictions will come into force from Saturday 26 December 2020 until Sunday 10 January 2021.
The Prime Minister, who was accompanied by the Minister of Health Paulette Lenert, noted that the number of new cases has shown a downward trend in the past weeks, thus indicating that recent measures have had an effect. Nevertheless, at around 400 cases per day, numbers remain too high. New measures are considered necessary to bring numbers down further and more rapidly to reduce pressure on hospitals and improve the efficiency of contact tracing.
As such, the following measures will take effect from this Saturday, remaining in place until 10 January 2021:
- non-essential retail (including hairdressers, tattoo parlours, etc.) will be closed to the public (click and collect, home delivery remain allowed);
- alcohol may not be consumed outdoors;
- the curfew will be extended by two hours, beginning at 21:00 instead of 23:00 (21:00 to 06:00);
- teleworking should be strongly encouraged;
- schools will stay closed (distance learning) for an additional week after the Christmas holidays (parents will be entitled to family leave);
- all sporting activity (except in private sphere) will be prohibited;
- fines for non-compliance will be doubled to €300.
The hospitality sector will remain closed until 15 January 2021, as planned.
Prime Minister Xavier Bettel also discussed the European Union's approval of the Pfizer / BioNTech COVID-19 vaccine. The first vaccines in Luxembourg are set to be rolled out from 28-29 December 2020, starting with medical staff at Halle Victor Hugo in Luxembourg-Limpertsberg.