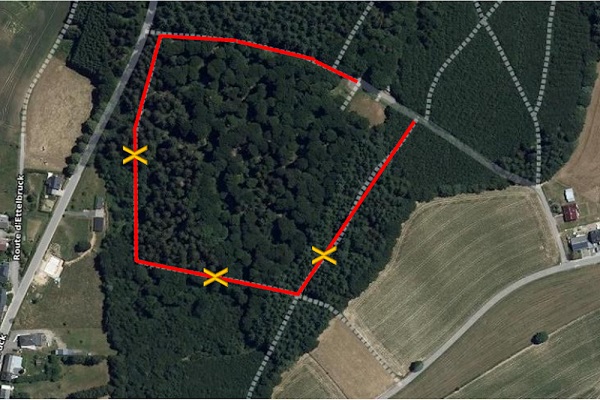 Rambrouch forest, showing alleged arson sites; Credit: Police Grand Ducale
The Grand Ducal Police have issued a call for witnesses in relation to an incident that happened on Monday evening at around 19:30 in a forest in Rambrouch.
The emergency services had been called out to a major "seepage" fire in a wooded area at the end of the Rue du Nord in Rambrouch. They managed to extinguish it before it had the chance to spread and therefore prevented a major forest fire.
Officers from the emergency fire brigade service discovered two other places where attempts were also made to start fires, with smaller fires being extinguished successfully.
The police have therefore issued a public appeal to anyone who may have seen suspicious persons in the forest or in the immediate vicinity on Monday between 16:00 and 19:00, or who have other useful relevant information, to contact the Atert police station, tel: 2449-21000 or by e-mail: police.atert@police.etat.lu