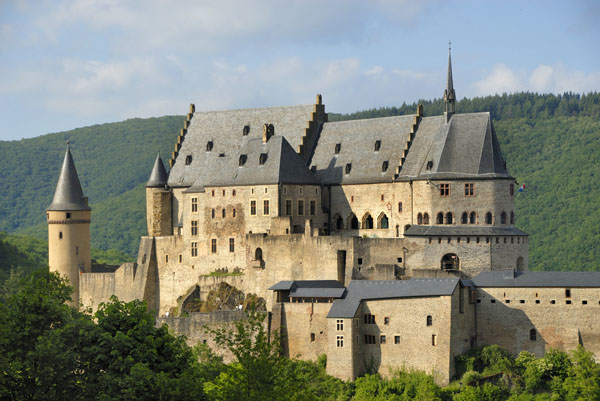 Vianden chateau;
Luxembourg's General Directorate of Tourism has announced that, as part of the Restart Tourism initiative, it has set up a tourism fund to the tune of €3 million, which aims to support non-profit associations (ASBL) working to promote tourism.
This fund provides in particular for a contribution towards salaries as well as operating costs within the framework of large-scale regional or national tourism projects or initiatives managed by a non-profit organisation (ASBL) established in Luxembourg and professionally managing a tourist infrastructure.
The association making a request towards salary costs must professionally manage tourist accommodation, a tourist site or a tourist offer, use the infrastructure for which it is requesting the subsidy already before 15 March 2020, and operate during the month for which the subsidy is requested. Also, it must be affiliated as an employer with the Social Security system. A subsidy of up to €1,250 per full-time equivalent (FTE) can be requested for the months of June, July, August, September, October and November (6 months). The subsidy can reach a maximum of €10,000 per month for ASBLs employing less than 10 employees, €50,000 per month for ASBLs employing up to 50 employees and €100,000 per month for ASBLs with more than 50 employees. Volunteer work is not considered.
The association requesting a contribution towards operating costs (excluding salaries) must claim costs in connection with the management of tourist accommodation, a tourist site or a tourist offer, and more particularly in relation to the expenses relating to communication and advertising or relating to the implementation of a digitisation project from 15 March to 31 December 2020. The participation in communication and advertising costs amounts to a rate of 50% and this with a maximum amount of €10,000. Coverage of costs in connection with a digitisation project amounts to 100% and with a maximum amount of €25,000.
Contributions towards salary costs and operating costs are treated as cumulative. Extraordinary COVID-19 state aid as well as aid granted by the Ministry of the Economy or other ministries and relating to the same costs will nevertheless be deducted from the contribution towards costs of tourism projects or initiatives managed by non-profit organisations.
Detailed information on the new aid for associations which manage tourist infrastructure, as well as the application forms, will be available as of today on Guichet.lu.