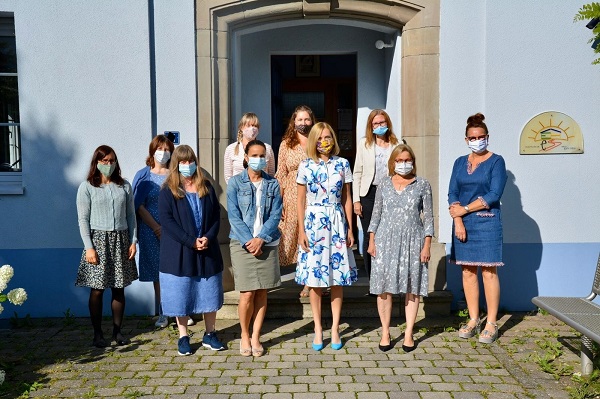 Taina Bofferding with teams from Fondation Maison de la Porte ouverte in Eschweiler; Credit: MEGA
Luxembourg's Minister of Equality between Women and Men, Taina Bofferding, visited women's shelters and consultation centres on Friday to get an overview of the social work carried out by organisations and their staff for the benefit of women in distress, especially victims of domestic violence.
On this occasion, Minister Taina Bofferding visited support structures contracted with the Ministry of Equality between Women and Men, namely the Fondation Maison de la Porte ouverte (FMPO), the Fondation ProFamilia, Femmes en détresse asbl (FED) and the Conseil National des Femmes du Luxembourg (CNFL). The Minister particularly welcomed the support and professionalism of the teams.
The day started with a visit to the FMPO's "Eeschwëller Haus Edith Stein" in Eschweiler and the FED "Fraenhaus" shelter in Luxembourg. The afternoon was spent visiting the "Fraenhaus" of ProFamilia in Dudelange and the "Foyer Sud" of the CNFL in Esch-sur-Alzette. The site visit and an exchanges of views with the heads of these support structures were at the centre of this ministerial visit.
Minister Taina Bofferding stressed that the "crisis phase linked to COVID19 was particularly difficult for the structures and the consultation centres, especially in the context of the challenges that arose in the context of domestic violence. Throughout confinement and the progressive phases of deconfinement, the organisations perfectly mastered the situation and were able to continue their activities through on-site and telephone hotlines. Assistance and help for potential victims could be guaranteed. This on-site visit is a first step to take stock of the crisis, which, according to a first estimate, has not seen a massive increase in domestic violence in Luxembourg. It is also the merit of our partner organisations".