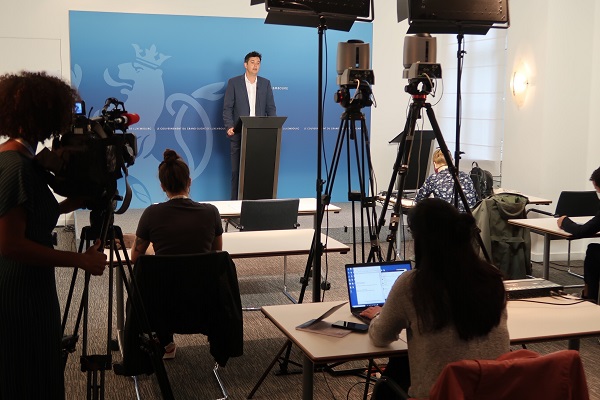 Lex Delles, Luxembourg's Minister of Tourism; Credit: MECO
Luxembourg's Minister of Tourism Lex Delles held a press conference this morning on the "Restart Tourism" recovery plan intended to support the tourism sector in light of the COVID-19 crisis.
On this occasion, Minister Lex Delles began by stressing the importance of the tourism sector for Luxembourg's economy, although he recalled that things could not (yet) go back to how they were pre-crisis.
The Tourism Minister also announced that the government had approved a €3 million tourism fund aimed at putting leisure tourism back on the road to recovery and supporting non-profit organisations within the industry. Such organisations tend to rely on volunteers and many have been hard hit by the COVID-19 pandemic. Minister Delles added that the focus will be on attracting tourists from neighbouring countries, as these traditionally make up a large part of incoming tourists to the country overall (according to figures from STATEC).
Minister Lex Delles went on to present a campaign for domestic tourism. The new campaign "Lëtzebuerg - Dat ass Vakanz/" aims to promote trips and activities within the country among residents of the Grand Duchy and the Greater Region. As an incentive, all Luxembourg residents and cross-border workers over the age of 16 will receive a €50 voucher for an overnight stay from the beginning of July. These vouchers are valid until the end of the year and can be used to pay for an overnight stay in one of Luxembourg's hotels, hostels or campsites. Packages are also being set up to encourage people to make the most of the country's tourism offer and try new activities.
The Tourism Manager added that a common digital strategy is being developed for Luxembourg's tourism industry, specifically aimed at helping non-profits and other businesses to improve their digital presence, as well as encouraging investment in the sector. The strategy will provide a digital diagnosis allowing individual consultancy for the tourism association sector.
Concerning business tourism, Minister Lex Delles recalled that the government would support businesses financially. For instance, through the relaunch fund, businesses may be eligible for financial aid for both working employees (€1,250 per employee) and those who are in partial unemployment (€250 per employee). The assistance is also dependent on turnover loss (eg 25%). He added that although business workshops and meetings are allowed in Luxembourg, these have been taking place under different conditions than before, ie virtually. In this context, Minister Delles said that what were exceptions yesterday have become the rule today.
The Tourism Minister concluded by stressing that the recovery plan aimed at "strengthening Luxembourg's tourism [sector] in all its facets".
In the Q&A session that followed, Minister Lex Delles clarified that the €50 vouchers can be used for accommodation only and that this decision was based on the idea that overnight stays will encourage visitors to stay, explore and take part in other activities in the area. Around 700,000 vouchers will be issued by post to residents and cross-border workers in July.
Luxembourg's Tourism Minister added that the authorities were working on setting up a label for accommodation similar to the "safe to serve" label for restaurants and cafes in order to assure visitors that the establishments respect the required sanitary measures.