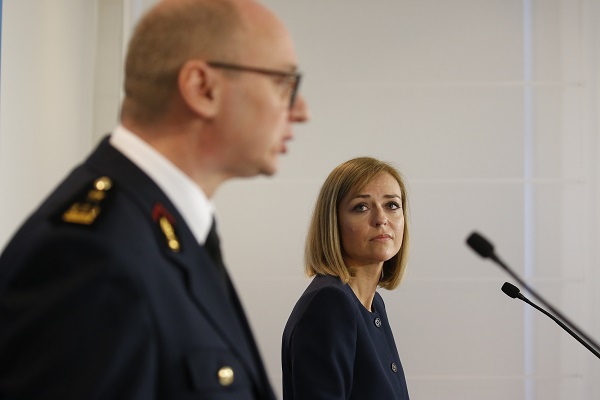 CGDIS general director Paul Schroeder and Interior Minister Taina Bofferding; Credit: SIP / Julien Warnand
On Tuesday morning, Luxembourg's Minister of the Interior, Taina Bofferding, held a press briefing on the challenges posed by the COVID-19 (coronavirus) crisis in terms of civil security and the continuity of municipal services.
Interior Minister Taina Bofferding was joined on this occasion by Paul Schroeder, Director General of the Grand Ducal Fire and Rescue Corps (CGDIS).
Minister Bofferding began by assuring that the Department of Civil Security and the CGDIS are constantly in contact in order to decide how to best prepare for the current health crisis and how to best protect both the public and personnel. The Interior Minister expressed her gratitude to the CGDIS for its continued efforts to ensure civil security. She added that volunteers were crucial in these difficult times.
Taina Bofferding went on to stress the importance of a guaranteed adequate response from the CGDIS so that those requiring help (traffic or home accidents, domestic violence, etc.) continue to receive it, even in this crisis period. She added that isolation and staying at home more than normal has been proven to increase stress levels among the population and recalled that support services, such as SOS Détresse (tel.: 454545) and violence.lu, remain operational for those seeking help, albeit in a different format (e.g. via email or telephone rather than in person). She emphasised that even in these challenging times, "No one is alone. There are people to help".
Returning to preparations and measures being taken by the CGDIS, the Interior Minister assured that everything is being done to be prepared and organised for the current crisis. In this context, plans to set up a fifth SAMU (emergency response) team in Luxembourg have been brought forward from 1 May to 1 April 2020.
Regarding preparations at the municipal level, Minister Bofferding recalled that the municipalities were carrying out several tasks, from ensuring the safety of residents to guaranteeing the continuation of essential services such as waste management, water supply and civil services (e.g. birth and death registrations). To help ensure this work can continue and to protect the municipality, the municipalities each have a continuity plan with guidelines to help them identify which essential services need to be guaranteed and how to organise them. Minister Bofferding added that the municipalities can receive round-the-clock guidance on these matters directly from the Ministry of the Interior via email or a newly launched telephone number.
The Interior Minister also stressed the importance of continuity for local authorities who should be able to take important decisions even in crisis time. In this context, local councils can opt for proxy votes and video conferences, as well as the possibility to relocate emergency sittings (i.e. to larger rooms) without having to first ask the government's permission. She reiterated that the municipalities and essential services remain functional during the state of emergency, before praising local initiatives which have shown solidarity recently.
Similarly, Paul Schroeder stressed that the CGDIS is a service that must continue to function in all situations. He recalled that emergencies will always happen and that it is thus very important that the CGDIS remains able to fulfil its normal role around the clock as well as additional tasks related to the coronavirus crisis. He then presented a chronological overview of developments, first noting that the 112 emergency line was overwhelmed at the start of February when cases in Europe began to increase. At the end of the month, the CGDIS supported the repatriation of Luxembourg citizens and residents in this context. In early March, the coronavirus hotline (8002-8080) was set up, thus reducing pressure on the 112 emergency line, according to Paul Schroeder. Indeed, the hotline received over 24,000 calls over the past three weeks. In addition, the CGDIS meets twice per day (via video conference) to provide updates on the situation.
The CGDIS director general went on to highlight that non-essential activities had been suspended and that attention was currently being placed on monitoring the absence of personnel and boosting these losses with volunteers where needed. Critical services and infrastructures, such as the 112 line and cargo flights, remain guaranteed. Elaborating on the new SAMU team, Paul Schroeder explained that this will be put in place at Findel airport and will work together with the Luxembourg Air Rescue. As of 1 April 2020, there will thus be two SAMU teams outside of hospitals (in Hesperange and at Findel), which are expected to help relieve some of the pressure during the current crisis. He added that support tasks related to telecommunications and logistics remain essential, as well.
Regarding measures taken to protect staff, the CGDIS has reiterated the importance of hygiene and disinfection, prepared tutorial videos for staff and introduced specific rules for ambulance drivers. More specifically, only two rather than three individuals are allowed in ambulances (one will serve as a reserve) and staff at a higher risk are not allowed to drive in ambulances. Moreover, the CGDIS has employed a first responder service to cover for a potential lack of staff.
In addition, the CGDIS has been monitoring hospital capacity across the country to help determine where patients should be treated or transferred depending on availability. He added that there were plans for increased patient transport between hospitals in collaboration with the the Red Cross and other ambulances. Indeed, he recalled that the Luxembourg government has already transferred several patients from Alsace in France to the Grand Duchy to receive treatment. These ongoing efforts are being supported by the CGDIS.
To conclude, Paul Schroeder emphasised that the CGDIS is prepared and well-equipped for what lies ahead but that the main risk remains a potential loss of staff, which should be avoided as far as possible.
In the Q&A session that followed, Mr Schroeder confirmed that 31 CGDIS staff members had been affected by coronavirus; fifteen are currently in self-isolation, nine are in self-quarantine, six are in isolation and one is hospitalised. This is out of a workforce of around 770 staff members and some 4,200 volunteers.