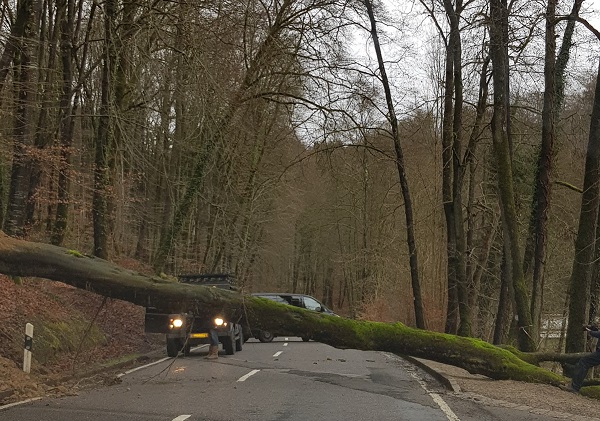 Fallen tree in Mullerthal; Credit: Jazmin Campbell
As of 07:00 this morning, the total number of interventions by the Grand Ducal Fire and Rescue Corps (CGDIS) in relation to Storm Ciara (Storm Sabine in Germany) had reached 117, according to Luxembourg's authorities.
These interventions took place against the backdrop of strong wind gusts of up to 110-130 km/h. Indeed, MeteoLux yesterday issued a red weather alert for the whole country between 01:00 and 09:00 on Monday. From 09:00, an orange alert will remain in effect for the rest of the day.
At 07:00, Luxembourg's Ministry of Home Affairs, the CGDIS, the High Commission for National Protection (HCPN), the Water Management Authority, the National Roads Authority, the Luxembourg Army, MeteoLux, the Ministry of Education, Children and Youth, the Grand Ducal Police and the Crisis Communication Service met for the third time to take stock of and provide an update of the situation.
The meeting found that the number of interventions by CGDIS teams rose moderately from around 100 (at 05:00) to 117 (at 07:00). For its part the National Roads Authority had to intervene 179 times. Regular updates are expected.
As of 05:00 on Monday morning, the following roads were closed to traffic:
- CR154 Alzingen – Syren
- CR189 Goeblange – Simmerschmelz
- CR101 Kopstal – Schoenfels
- N8 Saeul – Kräizerbruch
- CR176/177 Lausauvage – Hussigny
- CR176 Differdange – Roudenhaff
- CR118 Consdorf – Mëllerdall
- CR121 Blumendall – Reulandermillen
- N28 Hierheck – Grousbous
- N23 Martelange
- CR306 Vichten – Grousbous
- CR101 Lintgen, Route de Fischbach
- CR122 Gonderange - Rodenbourg
Schools
In addition, Luxembourg's Ministry of Education confirmed that classes were cancelled for public school students (primary and secondary) on Monday, although teachers should be present to receive any students who do attend. According to other local news sources, private schools such as St George's, the International School of Luxembourg (ISL) and the European schools will also remain closed in light of the red alert announced by Meteolux.
The University of Luxembourg similarly reported that university employees would be authorised to work from home on Monday, with the exception of those providing essential services. Students are also excused from classes.
Transport
The City of Luxembourg reported that its bus service will continue its school routes for those students who do attend school on Monday.
For its part, Luxembourg's rail authority, the CFL, has announced that current weather conditions are likely to cause disruptions on the Luxembourg and cross-border rail network throughout the day. Customers should check train timetables on the CFL website of mobile application for further information.