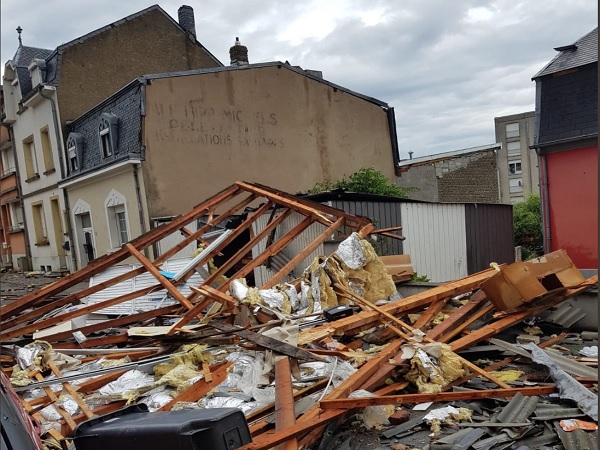 Tornado damage in Pétange, Bascharage; Credit: CGDIS
Of the 14 victims (up from the initial number of seven initially reported) from yesterday evening's severe weather expertienced in Pétange and Bascharage, two people remain hospitalised on Saturday.
A total of 30 houses had their roofs blown away completely by the tornado, with another 50 houses with roofs that have been badly damaged.
In the municipality of Kaerjing, around 100 houses were damaged, including around 30 with significant damage to their roofs, as well as many trees being completely uprooted and others severely damaged, with road signs and other buildings also suffering various degrees of damage.
A number of pylons carrying high-voltage electricity cables were toppled in the storm, and rail traffic between Pétange and Luxembourg via Dippach has been preemptively stopped in both directions. The Grand Ducal police has also established a security perimeter around the Cactus supermarket in Bascharage; the surrounding businesses will not be accessible to the public until the site has been completely secured.
The public have been advised not to travel to the Pétange and Bascharage areas as further strong winds are forecast for Saturday and further damage can not be excluded.
Around 200 volunteer and professional firefighters and some 40 police officers have so far been involved in the relief operations.
A hotline for people who are affected or want to hear news about the affected area can call tel: 8002-8080 or, from abroad, tel: +352-4977 1 9147.