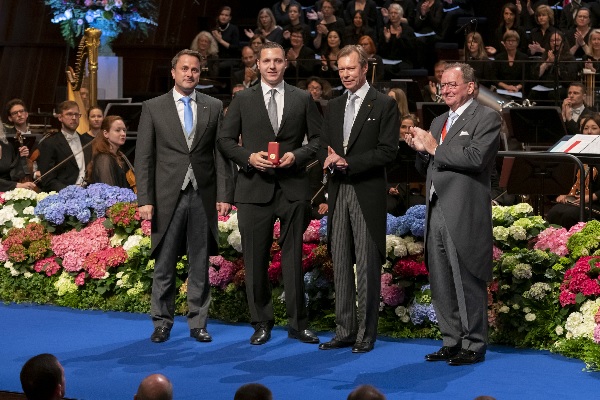 L-R: Prime Minister Xavier Bettel; Tom Habscheid, world record in the Paralympic shot in the F63 category at the Para-Athletics Grand Prix in Dubai; HRH the Grand Duke; Fernand Etgen, President of the Chamber of Deputies; Credit: © SIP / Emmanuel Claude, all rights reserved
The official programme of the national holiday began on Sunday 23 June at 10:00 with an official ceremony at the Philharmonie in Luxembourg-Kirchberg.
The ceremony brought together members of the Grand-Ducal family, deputies, members of the Government, the Cabinet, the magistrate and the judiciary, representatives of the College of the Mayor and Aldermen and the Communal Council of Luxembourg City, as well as the diplomatic corps accredited to the Luxembourg Head of State.
On this occasion, which marks the official birthday of His Royal Highness the Grand Duke, the Grand-Ducal family was represented by Their Royal Highnesses the Grand Duke and the Grand Duchess, accompanied by the hereditary Grand Duke and the hereditary Grand Duchess, Prince Felix, Prince Louis, Princess Alexandra and Prince Sebastian.
The Military Band performed the "Wilhelmus" at the arrival of the members of the Grand-Ducal family who were welcomed at the Philharmonie by the President of the Chamber of Deputies, Fernand Etgen, Prime Minister and Minister of State Xavier Bettel and the Mayor of the City of Luxembourg, Lydie Polfer. On this occasion, the Grand Duke, Fernand Etgen and Xavier Bettel delivered speeches before awarding honours to personalities from the civilian, economic, sports, cultural and military fields of Luxembourg society.
The Luxembourg Philharmonic Orchestra, the Pueri Cantores and the Chamber Choir of the Luxembourg City Conservatory, as well as choristers of the Luxembourg European Choral Institute (INECC) under the direction of Pierre Cao, provided musical supervision throughout the ceremony. The programme also included a commission from the Ministry of State and the Ministry of Culture, namely the composition "REGIIS OSTIUM (Royal Ouverture) for symphonic orchestra and choir" of Ernie Hammes, a prolific Luxembourg trumpet player, arranger and composer in the fields of jazz and classical music.
The official ceremony was followed by the traditional 21 cannon shot in honour of the Grand Duke at Fetschenhaff.