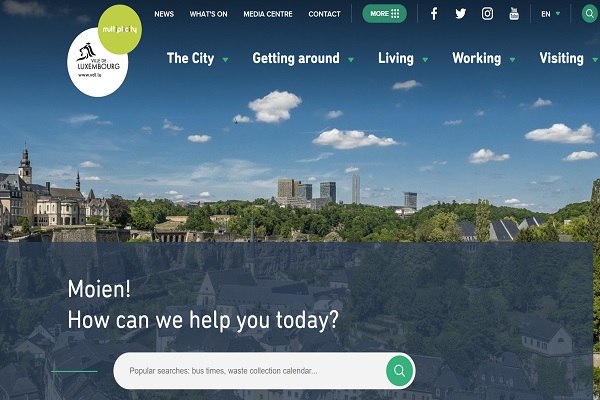 Credit: vdl.lu/en
The City of Luxembourg has translated its official website available from French into English and German.
As of Friday 7 June 2019, the website www.vdl.lu and its weekly newsletter are trilingual. In view of the multicultural population of the capital, consisting of citizens of more than 160 different nationalities, the provision of online content in three languages aims to meet a real need for information and is considered an important step towards the better integration of all audiences.
A major project, the translation of approximately 4,500 pages (one million words) from French into two other languages, represented a challenge for the Communication and Public Relations Department of the City of Luxembourg. The project formed part of the City's efforts to constantly optimise the www.vdl.lu website launched in July 2017.
To enable users to take advantage of trilingual content as quickly as possible, the City opted for a launch in successive phases. As of now, most of the site's content is available in the three languages; the user experience will then be progressively improved by the end of 2019 (availability of PDF documents, content and features from external sources and forms in German and in English, with the exception of legal documents which will remain in French).
The choice of language is made via a tab located on each page of the site in the top right or via the direct URLs vdl.lu/de and vdl.lu/en. The site then allows the user to quickly find the sought information through a search engine and intuitive navigation through the different sections. The two other entries of the site - by topic and by target public - also remain available.