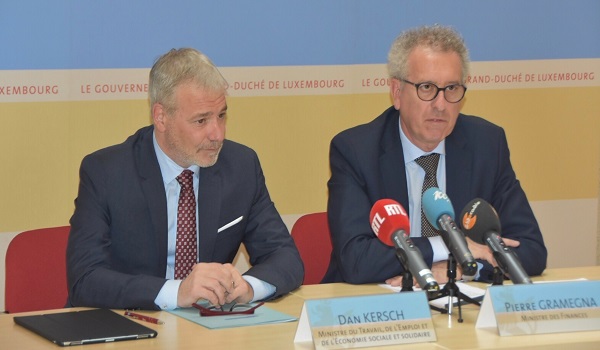 L-R: Dan Kersch, Minister of Labour, Employment and Social and Solidarity Economy; Pierre Gramegna, Minister of Finance; Credit: MFIN
The Luxembourg government today announced a series of measures related to the retrospective increase of the minimum social wage by €100 from January 2019.
The measures come in response to the provision in the 2018-2023 coalition agreement that the net salary received by beneficiaries of the minimum social wage will be increased with retrospective effect from 1 January 2019.
In order to achieve this objective, the draft law No. 7416, submitted by the Minister of Labour, Employment and Social and Solidarity Economy Dan Kersch to the Chamber of Deputies on 1 March 2019, has first provided for an increase of 0.9% of the minimum social wage retrospectively from this date. The 0.9% is in addition to the increase of 1.10% already implemented by the law of 21 December 2018. As a result of these two texts, the gross cumulative increase in the minimum social wage will reach, retrospectively from 1 January 2019, €41.21 for unskilled workers and €49.45 for skilled workers.
To achieve a net increase of €100 with retrospective effect from 1 January 2019, the draft law on the budget of the State's revenue and expenditure for the 2019 financial year has introduced a new tax credit called "minimum social wage tax credit" (CISSM). The CISSM is reserved for employees earning a salary close to the current minimum social wage. As with the tax credit for employees to which it is added, it is paid monthly together with the salary, taking into account withholding tax deductions.
In order to ensure that wage earners with slightly higher wages than the minimum wage for skilled employees are not excluded from the measure, and thus receive a lower net remuneration than those paid at the minimum social wage, there are also plans to reduce the CISSM from €70 to €0 for gross monthly salaries between €2,500 and €3,000. Outside of full-time work, employees will recieve the monthly CISSM in proportion to the hours paid and calculated on the basis of a fictitious gross monthly salary determined by converting the actual monthly gross salary into a notional monthly gross salary.
A Grand-Ducal Regulation has laid down the terms and conditions governing the granting of the CISSM, in particular for the months of 2019 preceding the entry into force of the budget law.
Luxembourg Minister of Finance Pierre Gramegna, who announced these measures alongside Minister Dan Kersch, commented: "The increase of €100 net of the social minimum wage tangibly reinforces the purchasing power of the people concerned. It thus contributes to strengthening domestic demand and thus generating new revenue for the state."