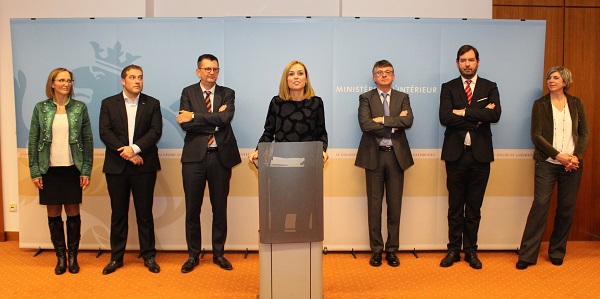 (L-R): Clara Muller, Cyrille Goedert, Alain Becker, Minister Taina Bofferding, Laurent Knauf, Marc Thiltgen, Mireille Cruchten; Credit: MINT
Luxembourg's Minister of the Interior, Taina Bofferding has outlined reform plans for 2019 at the traditional New Year's reception hosted by the ministry.
On Monday 7 January 2019, the Ministry has invited, in addition to Interior Ministry officials, representatives from Syvicol, FGFC, OGBL, LCGB, FNCTTFEL Landesverband and SYPROLUX, as well as delegations from the National Federation of Fire Fighters and the CGDIS.
In her retrospective on the year 2018, Minister Bofferding recalled the entry into force of the reform of the emergency services. The creation of the Grand-Ducal Fire and Rescue Corps (CGDIS) as a new structure for the reception of emergency services allows an integrated, effective and efficient management of all aspects related to the organisation of the emergency services.
Addressing her forecast for 2019, the Minister announced the relocation of the inter-ministerial committee for the reform of the property tax, wanting to advance the draft law on municipal administrative sanctions and the beginning of the discussions on the reform of the municipal law. Finally, the Minister expressed her wish to be able to count on the support of all partners, including Syvicol, for these reforms.