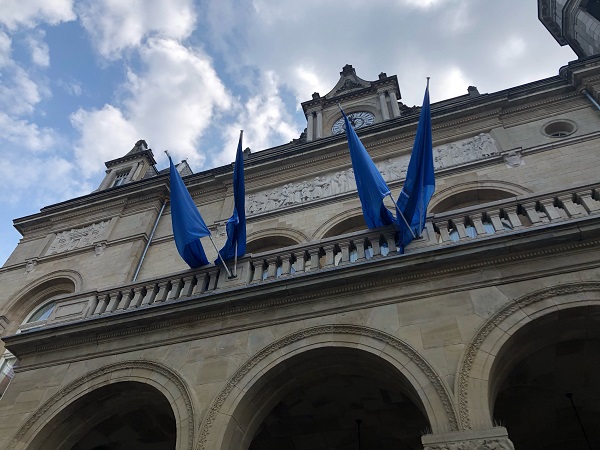 Untitled (blue flags) by Julien Hübsch at the Cercle Cité; Credit: Otilia Dragan/Chronicle.lu
In the context of the 2023 edition of the European Design Festival taking place in Luxembourg, Cercle Cité has put up an off-site exhibition in select public spaces throughout the capital in collaboration with Greylight Projects (based in Heerlen, in the Netherlands).
This project started in Luxembourg in June 2022 and was curated by Anastasia Chaguidouline and Wouter Huis, but it has been organised in a similar format in the city of Heerlen and art organisations in Germany, Belgium and the Netherlands since 2021.
This project was organised in order to showcase the work of designers from Luxembourg, since there is no designated space for official designers' "headquarters" in Luxembourg, noted Anastasia Chaguidouline during a dedicated press event. This has been a challenge for artists to employ elements or their own work to match the central locations selected. Some of these were notably: Casino Luxembourg – Forum d'art contemporain, Rotondes, Cercle Cité, Schluechthaus and LUCA, creating a pathway that can be followed by the general public using a map (available at the Ratskeller – Cercle Cité exhibition space starting on Monday 15 May 2023).
Flags are highly political and have a long tradition of various uses and meanings. People use flags to transmit signals, to identify countries, regions or cities, or to visually demarcate a territory. Flags can mark or transcend borders and are frequently used to represent political ideas and beliefs.
The What the Flag?! project is a collection of already existing artists' flags, but it also features recent works by Luxembourgish artists and designers. The latter were invited to respond using their own work and vision of the medium "flag".
Chronicle.lu discovered a few of the flags on 15 May 2023, and met artists Reza Kianpour and Sarah Schleich. Reza Kianpour's flag, "Never ever", displayed at the Casino Luxembourg, stages his image as hanging, clinging to the flag's pole. According to the artist, this symbolises the idea of "never letting go of the idea of both integration and holding on to one's origin".
This project invited artists to also question the medium of the flag formally and conceptually, which Sarah Schleich did in the area of Luxembourg-Clausen, one of the oldest neighbourhoods in the city of Luxembourg. Her work, "Troop flag", is embedded in a copper sculpture. She works with fabrics and she noted wanting to play on societal stereotypes of masculine and feminine elements, thus combining the copper metallic infrastructure with the backdrop of white fabric and roses.

Wouter Huis noted it is important to "bring art out of the studios, share it by putting it in the streets". The flags were printed on recycled material, and will be on display from 15 May to 16 June 2023. The exhibition's opening will take place on 15 May 2023 at 17:30, in the main entrance of the Cercle Cité, in Place d'Armes. The entry is free.
More information on this exhibition can be found on cerclecite.lu and europeandesignfestival.lu