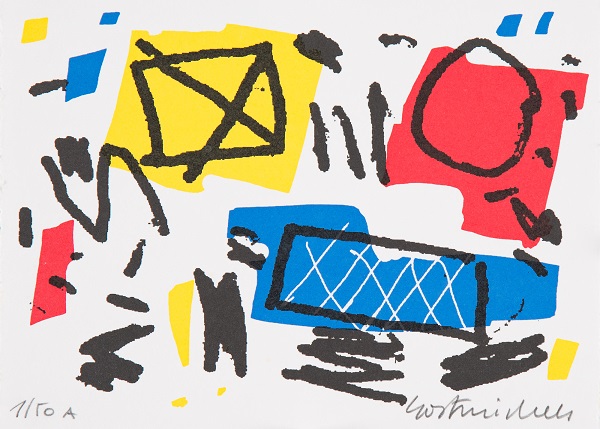 Serigraphy on paper, "untitled"; Credit: Gast Michels Estate
The Cercle Cité and the National Museum of History and Art (Musée National d'Histoire et d'Art - MNHA) have announced that they will be jointly exhibiting the works of the late Luxembourgish artist Gast Michels (1954-2013) in a temporary exhibition launching on Friday 7 October 2022.
Gast Michels was a keen observer of his environment. He meticulously analysed and decoded his surroundings, translating them into his own formal universe. His works have a unique formal language and feature recurring symbols like wheels or arrows and a luminous colour palette, often dominated by blues and yellows. While the early work of the Echternach-born artist predominantly deals with seemingly mythical depictions of human figures in woodland settings, his later works have a more graphic pictorial language featuring highly stylised objects and signs. As a painter, sculptor and graphic artist, Gast Michels worked in various mediums but always remained true to his expressive, symbolic and at times humorous visual language.
This autumn, the Cercle Cité and the MNHA will present the artist's first comprehensive retrospective, covering 30 years of his work. The exhibition consists of two parts and will be on display at both venues. The first part at the Cercle Cité focuses on Gast Michels' works on paper, illustrating his semiotic approach to developing a unique language of forms and symbols. The second part at the MNHA concentrates on the artist's monumental works. It provides an overview of his different creative phases and the development of his distinctive style with works ranging from the early 1980s to the 2010s, including paintings, sculptures and a tapestry.
The temporary exhibition "Gast Michels (1954-2013): Movement in colour, form and symbols" will be on display at the Cercle Cité from 7 October 2022 to 22 January 2023 and at the MNHA from 7 October 2022 to 26 March 2023.