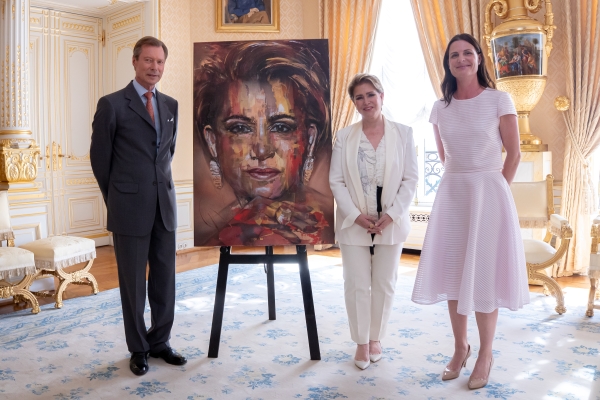 Credit: © Maison du Grand-Duc / Sophie Margue
On the occasion of the reopening to the public of the "Am tunnel" gallery, the exhibition "We are women", placed under the High Patronage of Her Royal Highness the Grand Duchess Maria Teresa, will be presented from 30 June 2022 to 8 January 2023.
This exhibition is an ode to femininity, Gilliane Warzée's favorite theme, which offers more than eighty paintings, covering the 250 metres of the gallery, a centre of contemporary art in the Luxembourg City (Luxembourg-Ville) located fifteen metres underground. The "We are women" exhibition is completed by the presentation of around thirty photographs by international artists such as Helmut Newton, Phil Borges, William Klein and Gisèle Freund, belonging to the private collection of Spuerkeess.
On this occasion, Gilliane Warzée presented the portrait offered to Her Royal Highness Grand Duchess Maria Teresa, a personal commission from Her Royal Highness Grand Duke Henri, produced in 2022.
Am Tunnel Gallery
In 1987, Spuerkeess decided to dig a tunnel to connect the three Bank buildings located on the Bourbon plateau. Very quickly, the idea arose to transform this tunnel into an art gallery; the necessary arrangements for the realisation of this project were undertaken in 1992 and 1993. Since 1995, Spuerkeess has organised in its Contemporary Art Gallery "Am Tunnel" thematic and retrospective exhibitions including works by internationally renowned artists.
Additional information is available online via: https://www.spuerkeess.lu/fr/a-propos-de-nous/la-galerie-am-tunnel/.