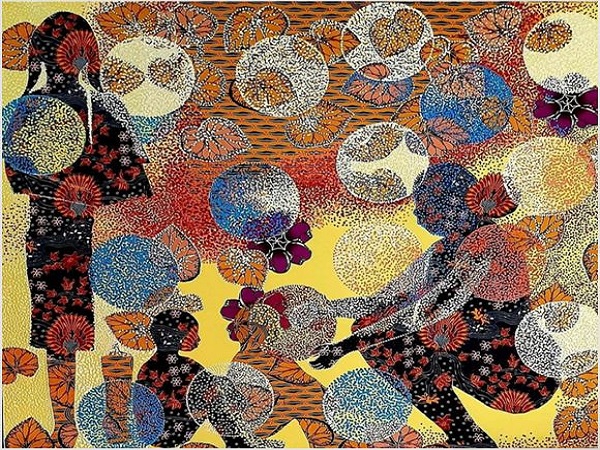 "Quête d'amour" by Koné Zié; Credit: Ruth Gallery
For its last show before the end of the year, Ruth Gallery at Casino 2000 in Mondorf-les-Bains is showcasing art from Mali and Ivory Coast.
The "Duo d'Art" exhibition will open to the public on Wednesday 8 December 2021, with an evening of discussions about a new generation of African artists. The vernissage is taking place from 19:00 to 21:30.
This exhibition includes works by Alhassane Konté, also known as "Lass", from Mali and Koné Zié from Ivory Coast. Lass' new series features children, flowers and animals on a green background. It is characterised by its freshness, its poetry, its play of colours and its unique style. Its message relates to the dangers of climate change, as well as the so-called "animist" culture of West Africa, in which the relationship with nature is central.
The main theme of Koné Zié's work, on the other hand, is the relationship of man to society, community and spirituality in Africa. He has described his intention as follows: "I try to show the importance of my culture through my designs".
The "Duo d'Art" exhibition will run from 8 December 2021 to 16 January 2022. Opening hours: Monday to Sunday, from 10:00 to 22:00. To organise a guided tour, contact Ruth Gallery via tel.: 621-276599.
Those wishing to attend the opening of the exhibition should RSVP via telephone (see above) or via email: info@ruth-gallery.lu.
Ruth Gallery is a contemporary art gallery focused on Africa creation. The gallery is based at Casino 2000 (5 Rue Flammang, L-5618 Mondorf-les-Bains).