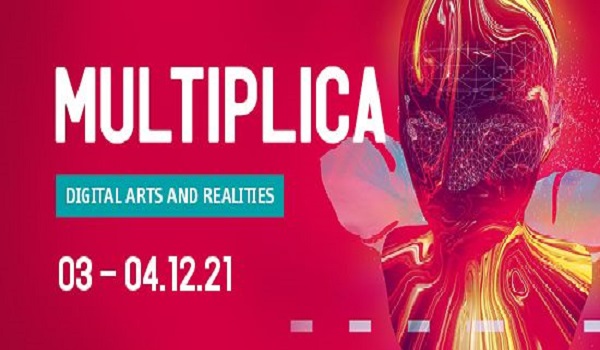 Spread over four weekends throughout the year, the 2021 edition of the biennial Multiplica digital art festival at Rotondes in Luxembourg-Bonnevoie is drawing to a close.
On Friday 3 and Saturday 4 December 2021, Rotondes is offering a final opportunity to dive into (and question) digital technologies and their applications in the artistic field and in society.
The COVID-19 health context dictated the format of this year's edition, with Multiplica spread across four weekends instead of just one. According to the organisers, however, this constraint quickly became an advantage.
"This extension gave us the opportunity to develop digital themes well", explained Yves Conrardy, event coordinator. "It also allowed us to experiment and gauge audience interest in different topics and formats".
Since February, Multiplica has been showcasing the potential of digital tools in artistic creation through artistic installations and audiovisual performances. The biennial event also sheds light on societal issues, notably relating to surveillance, civic engagement, exclusion and inequalities, during round tables and workshops.
The programme for the last days of Multiplica 2021 remains true to the starting line. Several audiovisual concerts are planned for 3 and 4 December. Highlights include Friday's "Bird Signals for Earthly Survival", a performance initiated by producer and graphic designer Mehmet Aslan, surrounded by rising techno star Glitter, anthropologist and filmmaker Stratis Vogiatzis and visual artist and performer Malo Lacroix. Using a variety of media, the project uses the flights of migratory birds as a metaphor for challenges related to our environment but also to the refugee crisis.
On Saturday 4 December, the artist, programmer, calligrapher and researcher Sahar Homami will present "fanaa". Inspired by a book by the 12th century Persian Sufi poet Attar, this performance interweaves elements of Persian calligraphy, mystical philosophy and generative art, for a haunting audiovisual and poetic journey.
For its last weekend, Multiplica 2021 is also offering an intergenerational workshop entitled "Digital Grandparents". 10-14 year-olds will have an opportunity to discover the basics of video editing, whilst those over the age of 55 can familiarise themselves with terms from new technologies.
All events are taking place according to CovidCheck rules.
Further information, including registration details, is available on multiplica.lu and rotondes.lu or via tel.: 2662-2030 (Tuesday to Friday, from 13:30 to 18:30)
The next edition of Multiplica is scheduled to take place from 24 to 26 February 2023.