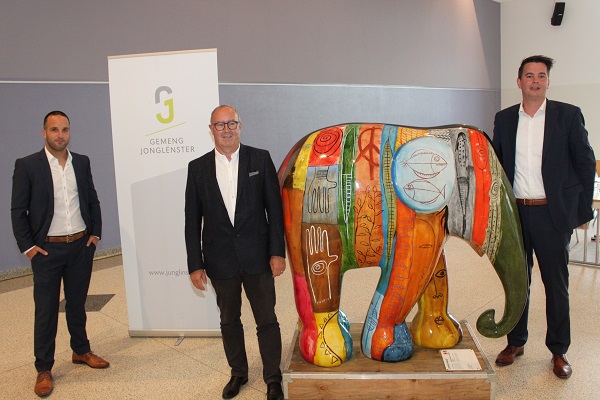 L-R: Ben Ries, Alderman of the municipality of Junglinster; Romain Reitz, Mayor of Junglinster; Lex Delles, Minister for Small and Medium-Sized Enterprises; Credit: MECO
On Wednesday 14 July 2021, Luxembourg's Minister for Small and Medium-Sized Enterprises, Lex Delles, and the Mayor of Junglinster, Romain Reitz, presented the "Elephant Parade Luxembourg Tour", an open-air exhibition featuring colourful elephant statues, which is taking place across the Grand Duchy from 12 July to 13 September 2021.
A herd of 40 elephant sculptures have landed in Luxembourg and are spread across thirteen municipalities: Bertrange, Bettembourg, Clervaux, Differdange, Dudelange, Esch-sur-Alzette, Ettelbruck, Junglinster, Mamer, Mondorf-les-Bains, Remich, Schifflange and Steinfort.
The first "Elephant Parade" was held in Rotterdam in 2007. It has since become the world's largest exhibition of decorated elephant statues. The brightly coloured, life-size baby elephant statues are put on display to raise awareness and funds for Asian elephants.
In Luxembourg, this open-air exhibition forms part of the government's ambition to support local traders. The COVID-19 pandemic has had a significant impact on the retail sector. In order to promote local commerce and revitalise urban areas, the authorities decided to bring the Elephant Parade to several interested municipalities. The exhibition is expected to attract residents and tourists alike, who can also use this opportunity to check out the local shops and restaurants.
Minister Lex Delles noted "that it is important to support municipalities with innovative projects that animate town centres and local businesses. Relaunching and promoting urban commerce is a political priority of the government".
Mayor Romain Reitz added that "the municipality of Junglinster has been committed for many years to a diversification of activity areas where both commerce and crafts can be carried out in a harmonious climate. The local and regional populations are the beneficiaries of this desired cohabitation".
To complement the exhibition, a competition is being launched on social networks, where participants are invited to post a photo of an elephant statue using the hashtag #elephantparadeluxembourg. Everyday, for the duration of the exhibition, they will be able to win a voucher worth €100 to redeem on the Letzshop e-commerce platform.
A second competition invites participants to give free rein to their creativity and draw their own elephant. The winner will win a trip for two to the next "Elephant Parade" where he / she can discover an elephant statue designed on the basis of his / her drawing.
Further details are available on the website www.elephantparade.lu.