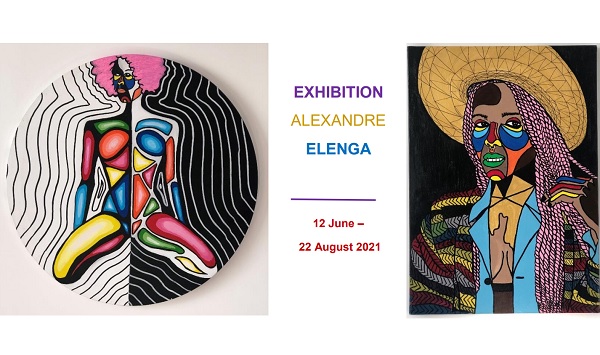 "The Power of Color", the solo-exhibition of Congolese artist Alexandre Elenga, will be on display at Ruth Gallery in Casino 2000 in Mondorf-les-Bains from this Saturday.
For Ruth Gallery's last show before the summer break, the colourful art of 23-year-old Alexandre Elenga will adorn the walls of the Galerie du Chapito in Casino 2000. The exhibition is the result of Ruth Gallery's new focus on African contemporary art.
A native of Congo, Alexandre Elenga is a painter and illustrator whose urban style touches on contemporary pop art. He uses colour as a weapon to enrich portraits and bodies, with the idea of making people forget their skin colour and fight racial discrimination.
Mr Elenga has exhibited in various countries and has had collaborations with some well-known brands. While finishing secondary school, he became interested in the art of Cuban painter Wifredo Lam. The latter's work on mixing cultures was a true revelation for the young artist and convinced him that people must accept their differences and respect those of others. He understood that no matter the cultural or racial differences, we are similar.
Alexandre Elenga's contemporary and colourful art is the result of merging Congolese and French culture. His extensive use of colours was inspired by the expression "Man of Colour", which is widely used to designate black men; it made him wonder if white and mixed men are not of colour, too. Mr Elenga explains that his work is a journey into the popular references that have become symbols of emancipation.
The saturation of colours are superimposed on the colors of the skins to question racial belonging and to make his work resonate as a tool of social criticism. Here, he believes, colours do not separate but unify.
Alexandre Elenga uses acrylic on canvas as a technique.
The exhibition will run from 12 June to 22 August 2021; it will be open to the public Monday to Sunday from 10:00 to 22:00.
The vernissage of this exhibition will take place on Saturday 12 June 2021 from 14:00 to 18:00, in the presence of the artist and in line with current sanitary restrictions. Wearing a mask is mandatory.
The artist will also be present in the gallery on Sunday 27 June and Sunday 11 July 2021 from 14:00 to 19:00.
For guided tours, contact Ruth Gallery via tel.: 621-27659. Further information is available at www.ruth-gallery.lu.