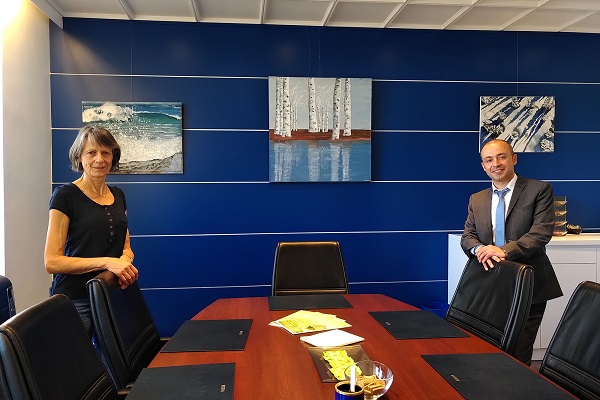 L-R: Marie-Odile Turk-Gaillot, artist; Manuel Rodrigues, Sales Manager at Fortuna Banque; Credit: Fortuna Banque
Fortuna Banque has announced that it is hosting a new art exhibition, on display until 31 May 2021, at its head office at 130-132 Boulevard de la Pétrusse in Luxembourg-Ville.
Metz-born artist Marie-Odile Turk-Gaillot's work presents strong atmospheres of an assumed colourist, abstract temptations and a desire for permanent experimentation. She expresses herself with a mixture of techniques while remaining a painter and, above all, she speaks to the viewer about nature and its elements with a freshness and authenticity that delight the heart and the eye.
Marie-Odile Turk-Gaillot's paintings are the fruit of an intimate and personal upstream reflection, triggered by the emotion in front of the spectacle of a landscape. Her favourite motifs are almost exclusively from nature. The link between earth and sky, deeply rooted like man and his original roots, raising its branches towards the clouds, the tree (so often present) is a witness to the inevitable flow of time and a receptacle memory. Elsewhere, the artist portrays a Breton marine horizon, a rock, a ray of light, a wave or a mountain range in the distance that transport viewers to her timeless universe in which colours flow naturally and light infiltrates discreetly.
The exhibition is open to all, Monday to Friday from 08:15 to 12:00 and 14:00 to 16:30, at the bank's counters and in its lounges.