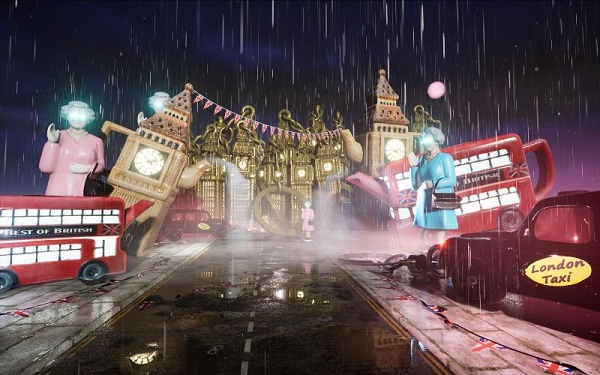 "I'm Terribly Sorry"; Credit: Rachel Maclean
Casino Luxembourg - Forum d'art contemporain will be displaying the works of British multi-media artists Rachel Maclean and Ben Wheele in the coming months.
From late February to April 2020, Luxembourg visitors will have the possibility of viewing Scottish artist Rachel Maclean's exhibition "I'm Terribly Sorry" as well as English artist Ben Wheele's art work "Deep | Dark | Dank" at Casino Luxembourg.
"I'm Terribly Sorry" is a virtual reality video set in a dystopian British urban landscape filled with oversized Union Jack-emblazoned tourist merchandise. Several privileged city dwellers approach the user, each of whom has a large smartphone for a head. Initially benign and apologetic, they tell convoluted stories and attempt to elicit money, with their protestations soon becoming more sinister. Will all this lend in a bloody tragedy? Is this an apology or criticism of the gratuitous violence of video games? Is it the artist's cold cynicism towards Brexit? The video provokes myriad interpretations.
Alongside her own exhibition, Rachel Maclean has invited Ben Wheele to Casino Luxembourg to present his immersive art installation, "Deep | Dark | Dank". Using a range of digital animation techniques, the artist has constructed a fantastical world of sinister creatures, dark humour and grotesque body horror. Alongside his previous films, the installation features Ben Wheele's latest project "Top 5 Animation Containers". The work mimics the format of a Youtube "countdown" video to explore how viral memes evolve, namely Creepypasta stories (online horror stories spread through "copy and paste") and Dank Memes (exceptionally odd / unique memes).
The works of both artists will be on display at Casino Luxembourg from 29 February to 19 April 2020.