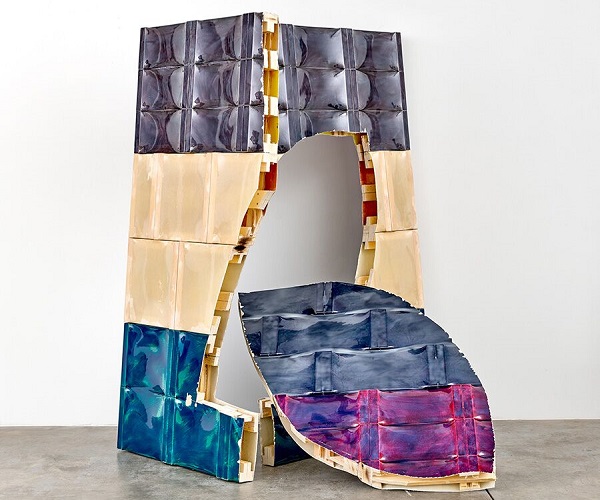 Roland Quetsch's work; Credit: © Courtesy Ceysson & Bénétière
To end the year in shapes and colours, Galerie Ceysson & Bénétière Luxembourg will be displaying three simultaneous exhibitions from Saturday 14 December 2019 at its premises in Windhof (13-15 Rue d'Arlon, L-8399).
From Saturday 14 December 2019 at noon until Saturday 15 February 2020, the works of the following artists will be on display at Galerie Ceysson & Bénétière:
- Roland Quetsch. Breaking free of the shackles of traditional painting mounted on a regular frame and beyond the so-called classical presentations that we might find in the painting of Roland Quetsch, the latter offers a varied exhibition focusing on other questions of presentation. With superposition, the assumed and claimed visibility of the chassis, destruction, the finish of his painting, Roland Quetsch will once again throw viewers off balance with the presentation of his recent, very large format works.
- Christian Floquet. In his latest paintings, Christian Floquet uses colours directly from the tube, without any mixing other than that done by the manufacturer. An application of colour laid down in the most anonymous way, research on graph paper into compositions and colours, systematic use of right angles and diagonals (excluding the curve) have been the common denominators of all his work since the late 1980s.
- Jim Peiffer, this year's special guest. A young artist who does not just tirelessly repeat his favorite motifs inspired by Bosch, the Surrealists, the artists of the movement of Basquiat and structured architectures, Jim Peiffer knows how to abandon them and venture out of the happy precisions of his drawing as shown in this interlude of paintings, sculptures and drawings.
The artist Christian Floquet will be present during the exhibition from 3-5 December 2019. Possible meetings on request. Meetings and flexible dates are also available on request for Roland Quetsch and Jim Peiffer.